United Auto Workers (UAW) President Shawn Fain slammed President Donald Trump over his planned visit to union members striking in Detroit next week.
Trump is set to visit Detroit next Wednesday rather than participate in the Republican primary debate in California and will deliver a speech before union members. His campaign is also considering having him make an appearance on the picket lines to show support for UAW workers, who began striking last week, according to a New York Times report.
UAW workers began striking last week after the top three automakers—Ford Motor Co., General Motors and Stellantis—did not meet their demands following months of negotiations. UAW negotiators have pushed for a number of demands, including double-digit pay raises, increased paid time off and enhanced benefits.
Both Democratic and Republican politicians have sought to show support for workers, a key constituency in the battleground state of Michigan. Both parties are hoping to contest the state in the 2024 elections. Michigan is seen as up for grabs in the presidential race and will also hold a Senate election that could play a role in determining control of that chamber.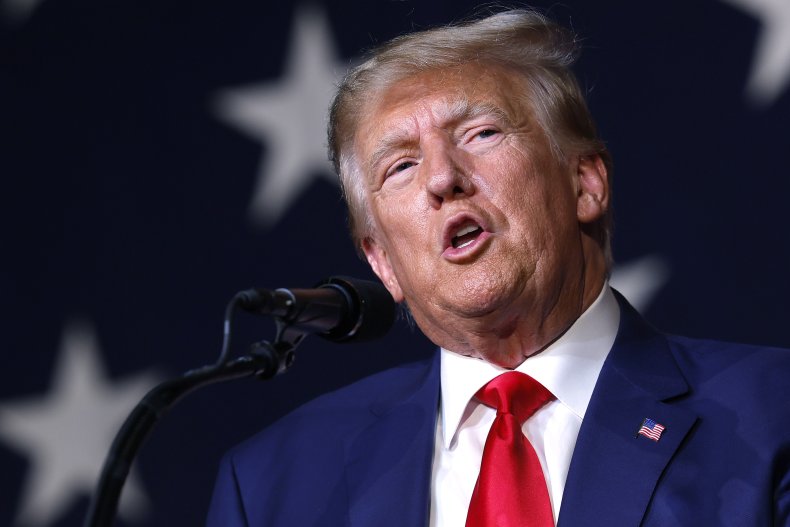 Trump's plans to visit Detroit, however, brought criticism from the union's president.
Fain released a statement slamming the idea of Trump joining workers on the picket lines and describing him as a beneficiary of an economic system that enriches those who are already wealthy at the "expense" of the working class.
"Every fiber of our union is being poured into fighting the billionaire class and an economy that enriches people like Donald Trump at the expense of workers," he said. "We can't keep electing billionaires and millionaires that don't have any understanding what it is like to live paycheck to paycheck and struggle to get by and expecting them to solve the problems of the working class."
Newsweek reached out by email to the Trump campaign and UAW for further comment.
Trump previously weighed in on the UAW strike in a Truth Social post last Friday, blaming the strike on the industry's transition to electric vehicles, which require fewer workers to build than fuel-based vehicles. Negotiations over pay rates and hours in regard to electric vehicles have been a contentious issue in the contract negotiations.
"The all Electric Car is a disaster for both the United Auto Workers and the American Consumer," Trump wrote on the social media platform. "They will all be built in China and, they are too expensive, don't go far enough, take too long to charge, and pose various dangers under certain atmospheric conditions. If this happens, the United Auto workers will be wiped out, along with all other auto workers in the United States." T
Trump and other Republicans have sought to portray the strike as a direct result of the transition to electric vehicles while also attacking President Joe Biden's support for more green vehicles to combat climate change.
While there are several other contentious sticking points in negotiations, the strike has pitted Biden's environmental policies against his support for labor. Biden has supported legislation incentivizing companies to manufacture electric vehicles, but the UAW has criticized these rules for not sufficiently protecting workers in the car industry.
During an appearance on CBS News' Face the Nation on Sunday, Fain said that while he supports efforts to deal with global warming, the transition to electric vehicles must protect workers.
"But this transition has to be a just transition, and a just transition means if our tax dollars are going to finance this transition then labor can't be left behind. And as it stands right now, the workers are being left behind," he said.