Sen. John Fetterman mocked Rep. Lauren Boebert for fondling her date while in the audience at a recent production of Beetlejuice.
Boebert, a Colorado Republican who has painted herself as a family-values conservative, was removed from a September 10 production of Beetlejuice at the Buell Theatre in Denver for allegedly vaping, using flash photography and fondling the man she attended the family-friendly show with.
Her behavior has drawn bipartisan backlash, with critics arguing the behavior was not appropriate for a sitting member of Congress and reflects hypocrisy over her stance opposing LGBTQ+ rights to protect children.
Fetterman, a Pennsylvania Democrat, is the latest politician to rebuke her behavior in response to a Fox News article about the Senate making its dress code more lenient. Republicans have been critical of the change, with some blaming it on Fetterman, whose casual clothes have become a key component of his political brand.
Fox News wrote in a post to X, the social media platform formerly known as Twitter, "DRESS TO IMPRESS?: People are furious after the Senate dropped its dress code requirement—and they're saying there is only one lawmaker to blame. Why the bar is being 'lowered.'"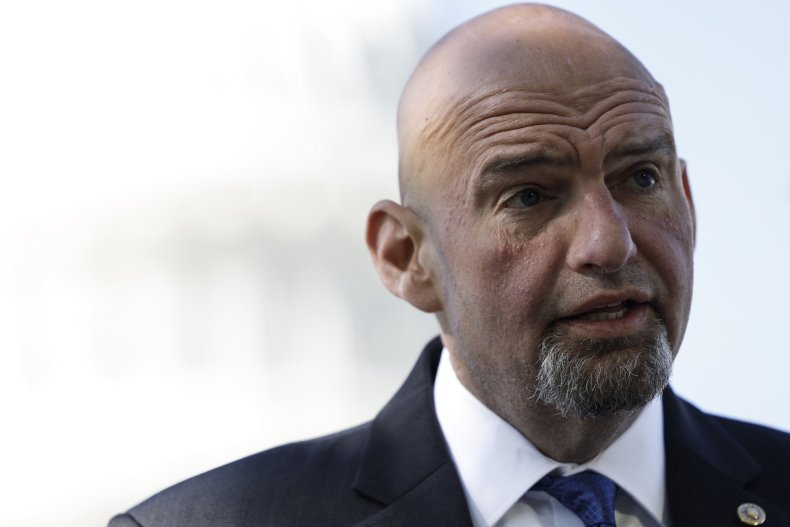 The Pennsylvania senator responded to the post by mocking Boebert. Newsweek has reached out to Boebert's office for comment via email.
"I figure if I take up vaping and grabbing the hog during a live musical, they'll make me a folk hero," he quipped.
His post went viral on X, being viewed more than 3.4 million times by early Tuesday afternoon.
Boebert has previously been critical of Fetterman's outfit choices, writing in a May 19 post to X, "John Fetterman redefined Casual Friday on a Thursday morning. It's truly unbecoming for someone to show up like that to any job, let alone a job that only 100 people are elected to do. There's just no excuse for it."
The congresswoman has apologized for her actions during the Beetlejuice production, writing that her behavior "simply fell short of" her values. She initially denied that she was vaping during the show, but issued an apology after the release of CCTV video from inside the theater confirmed those reports.
"The past few days have been difficult and humbling, and I'm truly sorry for the unwanted attention my Sunday evening in Denver has brought to the community. While none of my actions or words as a private citizen that night were intended to be malicious or meant to cause harm, the reality is they did and I regret that," she wrote.
She added: "There's no perfect blueprint for going through a public and difficult divorce, which over the past few months has made for a challenging personal time for me and my entire family. I've tried to handle it with strength and grace as best I can, but I simply fell short of my values on Sunday. That's unacceptable and I'm sorry."