A retired scientist has raised the alarm about water levels in Minnesota's Straight River.
Nearly all of Minnesota is suffering from moderate drought according to the most recent update to the U.S. Drought Monitor Map, with more than 60 percent of the state battling severe drought. A U.S. Geological Survey (USGS) water gauge near Park Rapids, Minnesota, identified the river as having low water levels, and Peter Jacobson shared the chart on social media Tuesday morning, expressing concern that the river was at "record low flows."
"The tranquil beauty of the Straight River in north central Minnesota belies a deeply disturbing condition," said Jacobson, a retired scientist with the Minnesota Department of Natural Resources, in a post on X, formerly Twitter, Tuesday morning.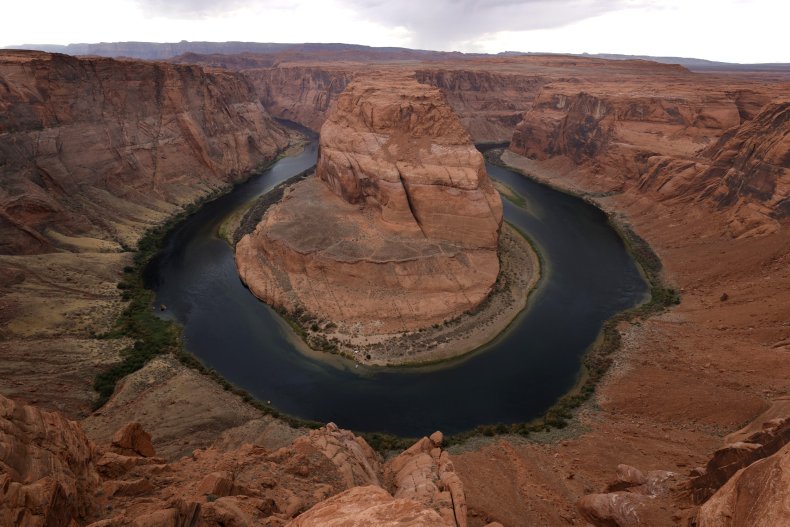 "The river is currently at record low flows," he added in a follow-up post that included the river gauge chart from the USGS. "Drought and excessive irrigation from industrial ag have taken their toll on this outstanding trout stream. Time for state regulators to reduce the number of irrigation permits and restore some climate resiliency to this system."
Newsweek reached out to Jacobson through X for comment.
Park Rapids, the location of the USGS water gauge, is in Hubbard County, Minnesota. The U.S. Drought Monitor Map identified that more than 76 percent of the county is suffering from extreme drought, a much-worsened condition over this time last year when none of the county was classified as suffering from extreme drought.
The agricultural industry's growing water use has depleted water sources elsewhere as well, namely at the Colorado River which is exhibiting low water levels as a years-long drought plagues the southwestern region of the U.S.
Experts have told Newsweek that the only hope for a full recovery of the Colorado River and its two main reservoirs—Lake Powell and Lake Mead—is if water use is greatly reduced. University of Southern California–Davis Professor Jay Lund previously told Newsweek that this could mean fallowing agricultural fields and requiring people in the area to reduce their water use if they hope to see the river's recovery.
Minnesota is more unfamiliar with drought, and as of this time last year, nearly two-thirds of the state was free from any drought. The drought situation has worsened though, and its impacts on the Straight River are obvious.
The Straight River's streamflow was last observed at 49 cubic feet per second, only 12 percent of its normal streamflow of 404 cubic feet per second, according to a webpage by SnoFlo, a platform designed for outdoor enthusiasts and climate-conscious individuals.
"River levels are low and may signify a drought," the webpage warned.