Opinion

President Biden's student debt cancellation effort has been voted down in the Senate, with two Democrats and one Independent joining Republicans to squash the effort. President Biden has vowed to veto the Senate bill, valiantly invoking the plight of Black and brown Americans especially, who have less intergenerational wealth to rely on when we try to get an education and therefore more debt. And as a Black academic physician with my own $315,000 of medical school loan debt, I could not agree more with efforts to help those suffering from the undue burden of their loans.

Republicans have argued that the President's blanket debt cancellation—$10,000 to $20,000 of loan forgiveness depending on a person's income—was unfair to people who had already responsibly repaid their student loans or who gave up college to avoid hefty debt in the first place. As Senator Joe Manchin, one of the Democrats who voted with Republicans, put it, "We should be focusing on bipartisan student debt reforms that reduce the cost of higher education and help all Americans."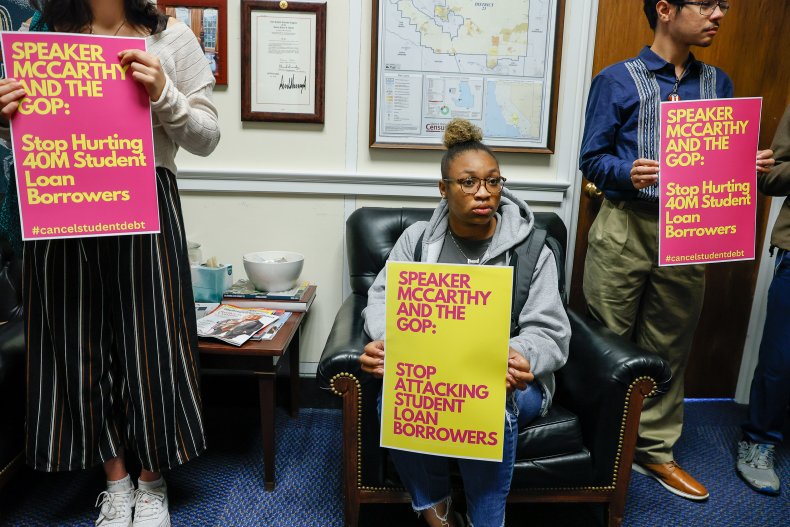 I could not agree more—yet this quest for educational equity for all Americans must include student loan forgiveness. Student debt after all is a racial justice issue. Due to systemic racism, Black and brown Americans have to borrow more money to achieve the same level of education. And even after achieving that same level of education, we are subjected to workplace inequities rendering us as statistically more likely to be underpaid, under-promoted, and undervalued no matter our field of employ.
There is an undeniable subset of Americans who are helplessly crippled beneath the weight of student debt, and systemic inequity renders minorities more likely to be counted among them. For those with smaller loan balances who are imminently at risk of homelessness or food insecurity once loans payments begin again, a cancellation of $10,000 or $20,000 is more than appropriate.
That doesn't mean the Republicans are totally wrong, though. People need to be accountable for their own financial decisions, and most of those who would be impacted by Biden's plan are not the truly destitute. Many more of us are capable workers who would fully take advantage of a long-term reform if politicians could leave partisan lines behind long enough to formulate such plans in a timely manner.
Democrats frequently praise their plan for how it will help 45 percent of borrowers erase their debt. Yet for the leftover 55 percent of us with much more substantial debt, the massive taxpayer spending to erase $10,000 of our balances may accomplish relatively little toward either racial justice or personal accountability.
This is why partisan efforts at student loan reform are not actually helping the majority of Americans, regardless of racial identity. To meaningfully achieve such reform would require politicians to leave partisan lines and come together to find true long-term solutions focused on the prohibitive cost of an education these days.
I will continue to sit here with my $315,000 loan balance and anxiously count the remaining 24 months of my 120 public service loan repayments. I am not confident that the government will fulfill its commitment to cancel my debt even thought I have responsibly fulfilled my part of the bargain. And that lack of faith in our broken system is why we are stuck in an expensive loophole that altogether denies all long-term racial justice or opportunities for personal accountability.
The Senate was wrong to overturn President Biden's student loan forgiveness plan. It was a step in the right direction for achieving racial justice. And yet, it is a larger culture of partisanship fostered by both Democrats and Republicans that keeps true equity always out of reach.
Carmen Black, MD, is assistant professor of psychiatry at Yale School of Medicine and Director of Social Justice and Health Equity for Yale Psychiatry.
The views expressed in this article are the writer's own.