Florida Governor Ron DeSantis responded to Donald Trump's recent attack on former White House press secretary Kayleigh McEnany, saying that it was "really, really bad."
"Donald Trump, even his greatest supporters have acknowledged, had a tough time picking good people. He had a lot of terrible personnel decisions, people like Jerome Adams, his Surgeon General…so we know there was a tough record, but Kayleigh was one of the greatest selections. She did a fantastic job," DeSantis, who is also a 2024 Republican presidential candidate, said while appearing on the NH Journal podcast on Friday.
DeSantis added: "She's a Harvard-trained lawyer, she's an absolute killer, and she ate the press alive, and so for him [Trump] to be attacking her, I thought that was really, really bad."
The comments by the Florida governor come shortly after Trump sent a post out on his Truth Social on Tuesday account criticizing McEnany, who served as the White House spokesperson during his presidency.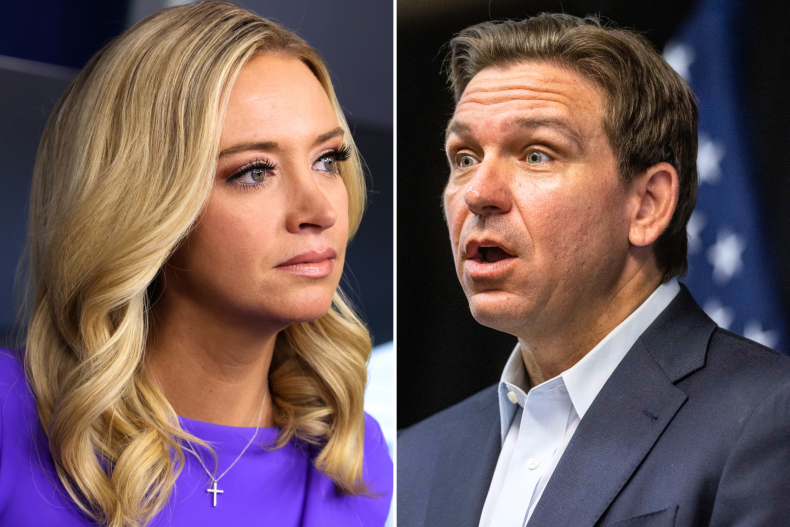 "Kayleigh 'Milktoast' McEnany just gave out the wrong poll numbers on FoxNews," the former president wrote, alluding to the insult known as milquetoast. "I am 34 points up on DeSanctimonious, not 25 up. While 25 is great, it's not 34. She knew the number was corrected upwards by the group that did the poll. The RINOS & Globalists can have her. FoxNews should only use REAL Stars!!!"
Trump's criticism of McEnany was in response to comments she made on Fox News, where she serves as a co-host and political commentator. On Tuesday, McEnany appeared on Jesse Watters Primetime and spoke about current poll numbers between Trump and DeSantis saying that the Florida governor was "closing the gap" in Iowa.
Newsweek was unable to verify which poll McEnany was discussing. However, one survey conducted by Emerson College Polling last week found the former president leading DeSantis by 42 percentage points in Iowa.
In addition to DeSantis, New Hampshire Republican state Representative James Spillane also responded to Trump's criticism of McEnany, telling the NH Journal on Thursday that he "can no longer continue endorsing former President Trump."
"I am officially withdrawing my endorsement, as his most recent attack on Kayleigh McEnany is beyond comprehension and explanation. Against my deepest hopes that Trump had learned some measure of control, he has attacked those who have been his staunchest supporters with no regard for their loyalty," Spillane said.
Meanwhile, DeSantis supporter Bill Mitchell also responded to Trump's criticism on Twitter and wrote, "OMG, now Trump is even attacking Kayleigh McEnany, his BEST press secretary ever? Is there no former hire this man will not absolutely TRASH and namecall? He is a CHILD."
Newsweek reached out to Trump via email for comment.