Tensions between parents heightened to arguments and physical altercations on Friday when a California elementary school was at the center of dueling protests after conducting a Pride Month recognition event in North Hollywood.
LGBTQ+ topics have grown increasingly divisive among political parties in America, with conservatives proposing legislation restricting the freedoms of the LGBTQ+ community, such as Tennessee banning public drag shows. Boycotts of organizations becoming involved in social issues have abounded, and public schools also have been pulled into the discussion after some conservative states, like Florida, have outlawed gender identity education.
Other schools, like Saticoy Elementary School in California, have expressed support for the LGBTQ+ community. Some parents have become outraged at the prospect of teaching children about sexual preferences, arguing that the topic is one that ought to be taught by the parent rather than in a classroom. In the case of Saticoy Elementary School, parents opposing the topic conducted a protest on school grounds on Friday. The protest resulted in fights between protestors and a conflicting group that was on the scene to show support for the LGBTQ+ community.
After learning that Saticoy Elementary School was planning a Gay Pride Spirit/Rainbow Day Assembly on June 2, parents opposed to the decision formed an Instagram account called Saticoy Elementary Parents. The account proposed that parents should keep their children home from school on June 2 to peacefully protest the decision.
Unrest has grown regarding the topic of LGBTQ+ acceptance and education after a Pride flag belonging to a transgender teacher and displayed on campus was burned and then left on school property in May, according to a report by the Los Angeles Times.
Police are investigating the incident as a hate crime, but the parents attending Friday's protest denied involvement.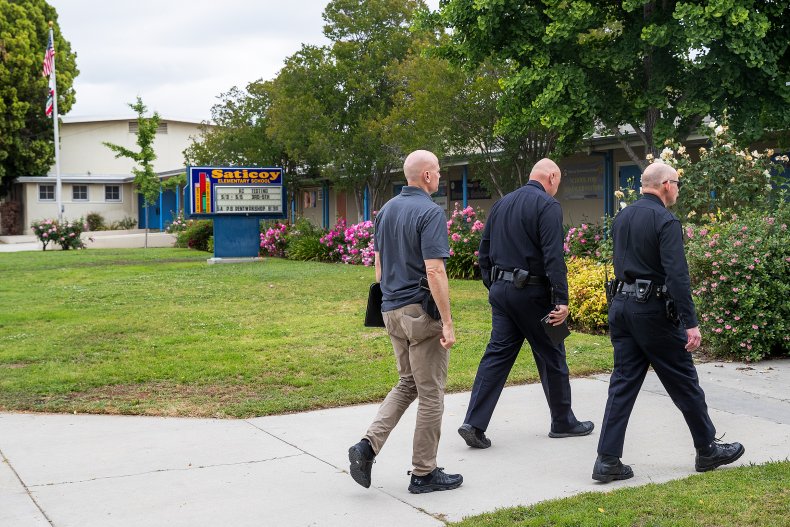 Newsweek reached out to the account through an Instagram message for comment.
On Friday, people protesting outside of the school carried signs with messages such as "No Sexualizing Our Kids!" and "Parental Choice Matters". Protestors also wore black and white t-shirts with the message "Leave Our Kids Alone" printed on the fabric. Only steps away, a pro-LGBTQ+ group gathered, waving Pride flags. Some of their signs read "I Hope U Know How Loved U Are" and "Not Every Family Looks The Same".
Strain heightened between the two groups, and at one point, it appeared the members of the conflicting groups shoved at each other before being separated by police.
Los Angeles Unified School District (LAUSD) told Newsweek that because safety is the district's top priority, the Los Angeles School Police Department would be providing additional patrols around the campus.
"Los Angeles Unified remains committed to maintaining a safe, inclusive and supportive environment for all students. We are also committed to ensuring diversity and inclusivity, in accordance with California's nondiscrimination laws, so that all students feel empowered to realize their greatest potential. This includes the recognition of the diverse communities that we serve," an LAUSD spokesperson told Newsweek. "We remain steadfast in our mission to educate and prepare our students to thrive with the skills and knowledge to be ready for the world."
Videos on Twitter showed several police officers lining up to separate the two groups when they squared off on Friday. One video showed a pro-LGBTQ+ protestor attempting to raise a Pride flag while being physically restrained by members of the opposing protest group. Another photo showed a man exhibiting rude hand gestures to members of the pro-LGBTQ+ group.
Increased security presence was on site at the elementary school to maintain peace between the opposing protests.
Saticoy Elementary School is not the only school in America to face backlash over its support of LGBTQ+ topics. In Manchester, New Hampshire, a high school requested $4,000 in unused American Rescue Plan dollars to be used in putting on a Pride event that included drag performers.
The decision divided the state's educational leaders, with school leaders speaking strongly in support of their LGBTQ+ students and state education department officials questioning if it was the best use of taxpayer dollars.