Winston Churchill issued a famous warning in his 1945 election broadcast. The great statesman was rightly worried about the threat posed by the Soviet Union, and the tyrannical impulses of communism. Churchill was clear: "Socialism is, in its essence, an attack upon the right of the ordinary man or woman to breathe freely without having a harsh, clumsy tyrannical hand clapped across their mouths and nostrils…. I declare to you from the bottom of my heart that no socialist system can be established without a political police."
Seventy-five years later, Churchill's warnings remain prescient. Millions of Americans find themselves shocked and appalled by the weaponization of the federal government to crush legitimate political dissent. Specifically, the use of the FBI by the Department of Justice against parents, Christians, and pro-life advocates grows more intense by the day.
Just last month FBI agents Ashley Roberts and Kathleen Brown showed up at the childhood home of pro-life advocate Elise Ketch.
Unaware of having done anything to warrant the unsettling appearance of federal agents on her mother's doorstep, Ketch expressed concerns that the goal of the FBI's visit was to intimidate her and her team. Judging by recent FBI mistreatment of pro-life advocates and people of faith throughout the past year, Ketch is likely right.
The FBI has heightened its use of aggressive tactics against pro-life Americans since the Biden administration's promise to use every tool available to protect the right of women to subvert pro-life state laws passed in the wake of the Supreme Court's Dobbs v. Jackson decision. This now includes heavy-handed unequal enforcement of the Freedom of Access to Clinic Entrances (FACE) Act against pro-life advocates.
Recall that the FBI last year sent more than a dozen agents to arrest pro-life advocate Mark Houck at gunpoint in front of his wife and children. They carted Houck off in handcuffs and a "belly chain" as if he were a violent criminal, and then forced him to endure a lengthy, humiliating public trial with the threat of an 11-year prison sentence looming over his head.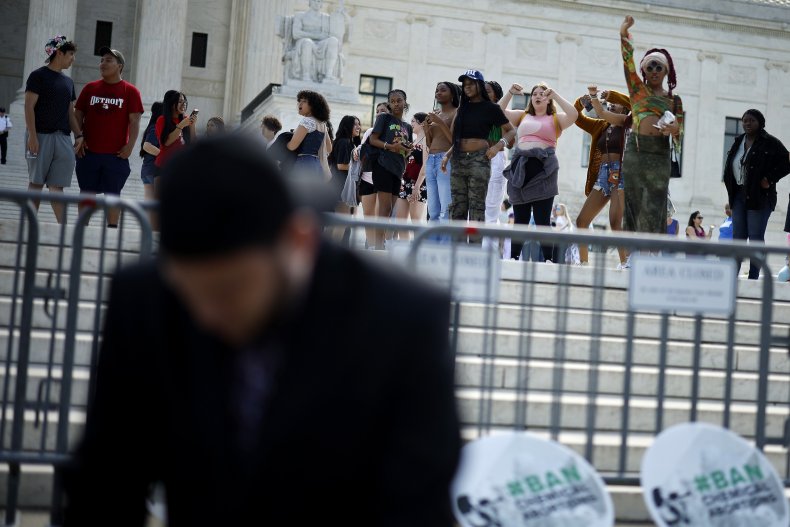 The case against Houck was so flimsy that the Philadelphia district attorney declined to file any charges, and courts additionally threw out a civil lawsuit against Houck filed by the clinic escort. Yet the FBI proceeded anyway. Houck was ultimately exonerated of all charges, though why he was singled out, and why the Department of Justice chose to go to trial, remains a mystery.
The heavy hand of federal police power has gone missing when it comes to violence against Catholic churches and pro-life care centers. Since 2020, more than 300 incidents of vandalism, arson, and destruction of Catholic churches have been recorded. There have also been almost 90 incidents of fire bombings, vandalism, and other attacks on pro-life organizations that offer free resources, support, and care to women and children in need. The Department of Justice has taken little to no action to stem this ongoing violence, yet decided to indict at least 11 pro-life advocates under the FACE Act—a law that protects abortion clinics as well as churches and pro-life pregnancy centers.
Such blatant terrorization of pro-life Americans and devoted Catholics should garner national outcry, or at least merit action from the government agencies tasked with protecting Americans from acts of domestic terrorism and hate. Unfortunately, while quick to pounce on any semblance of pro-life activism, our highest law enforcement agencies have been missing in action in defending those who disagree with the extreme abortion policy now advanced by the current administration.
This pattern of selectively enforcing the law against political opponents sends a clear message to all Americans: if you aim to advance a position at odds with the agenda of this White House, you may constitute a "threat to democracy." And you may soon get a knock on your door from the FBI.
Meanwhile, workers at pro-life maternity homes and pregnancy resource centers around the country are forced to scrape together funds to repair windows and doors, while fearing for their safety as threatening blood-red messages warn them that "if abortions aren't safe then neither are you." Catholic priests will continue to say mass while the decapitated saint statues just outside the church eerily remind them that vandals and violence lurk.
Regardless of their political views, all Americans should be outraged and deeply concerned to see such blatant weaponization of our government agencies, including the FBI's intimidation of political dissenters. No government is immune to totalitarian impulses when power goes unchecked. Without vigilance, history indeed is vulnerable to repeating itself.
Brian Burch is president of Catholic Vote.
The views expressed in this article are the writer's own.