Following a 60-pound weight gain during pregnancy in 2018, Lauren Polinskey struggled with her new life as a stay-at-home mom. As her weight continued to go up, her mental health took a dip.
The new mom cared for her son, John, who has epilepsy and would experience seizures between three and 10 times a day. The demanding nature of caring for him and feeling despondent about her marriage put a strain on her well-being. She told Newsweek that she was "beyond unhappy and miserable" at the time.
As her mental health deteriorated, Polinskey, 27, from Van Buren, Arkansas, weighed 230 lbs at her heaviest and wore a size 20 in clothes.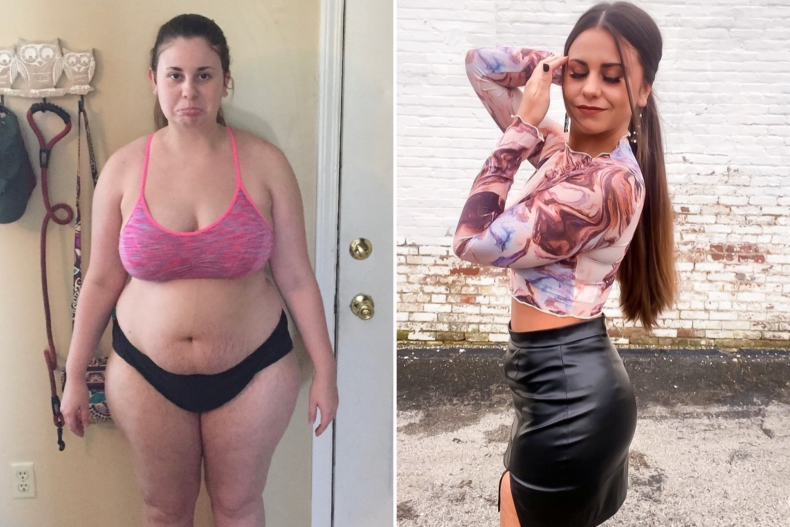 'My Mental Health Hit an All-Time Low'
She said: "I felt so deeply lonely and like a bird in a house. I hated my life, and my outside became a reflection of my inside."
While the pandemic changed many things about life, it gave Polinskey a new perspective on her unhappy life and she decided to start focusing on herself more, starting with her health. She said she came to realize that life wouldn't get better if she continued to gain weight and feel terrible about herself, so she made it her mission to be a happier version of herself again.
Polinskey explained: "I decided I wanted to lose weight in early 2020. My mental health hit an all-time low, so I asked for a divorce and started taking care of my own needs again, after neglecting them for so long. I always put others first, but I never took the time to care for my own needs.
"It took being absolutely broken as a person to say, 'Forget this, life is too short to be miserable.' I lost weight by making a complete lifestyle change, inside and out. I was on a mission to be happy and healthy again."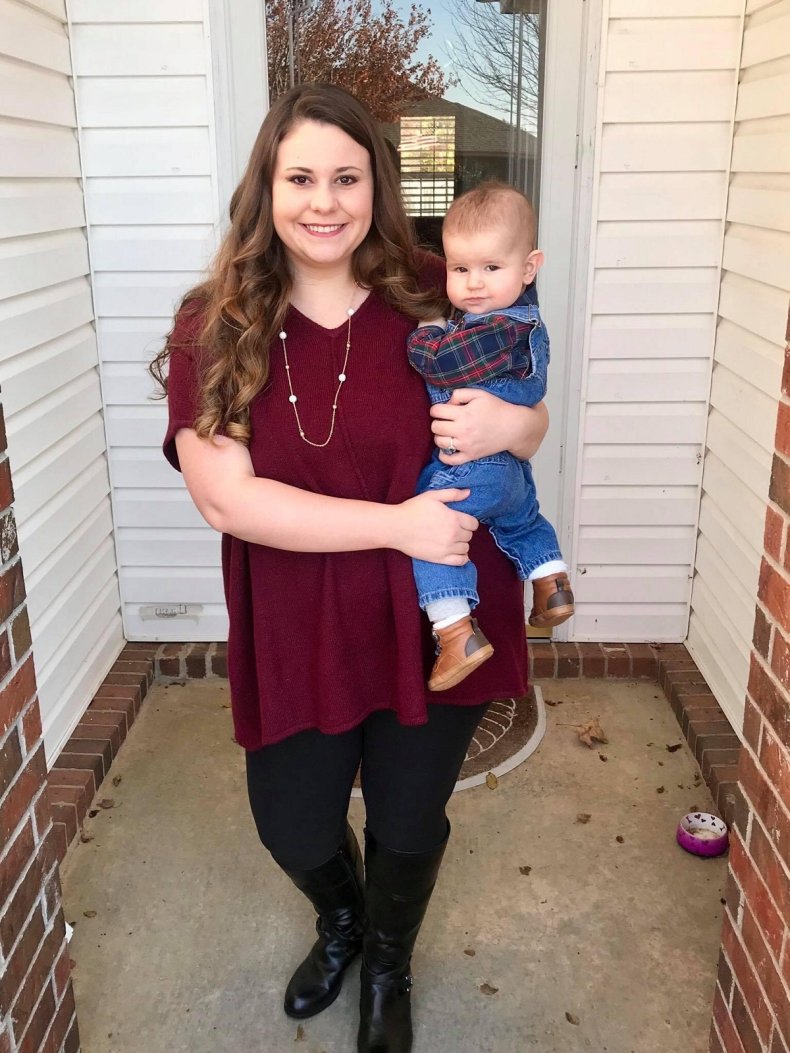 'I Still Walk Two to Three Miles, Three Times a Week'
As she'd unsuccessfully tried to lose weight in the past, Polinskey started with a new tactic this time round. Rather than overhauling her diet with unsustainable changes, she simply became more active, by doing a short workout at home or going for a walk outside.
The at-home workouts helped her lose 17lbs in the first five weeks, showing her that, not only was losing weight possible, but it could be simple too. After that, she made one simple lifestyle change by walking daily, which saw the weight drop off.
Bolstered by her success, she continues her daily strolls. Polinskey improved her diet by cutting back on sugar and carbohydrates. She said that this suited her much more than a strict diet or any kind of "overcomplicated eating."
"I accepted that for it to be a lifestyle change, and for me to be healthy forever, I was going to have to live a more active lifestyle," Polinskey said. "Diets are temporary, and I recognized that with this journey after all my failed ones. That's why I started with moving my body and not with nutrition.
"I love walking, it was the main exercise of my weight loss journey, and I still walk two to three miles, at least three times a week. Now, I also lift weights three times a week too."
To date, Polinskey has shed 91lbs since the start of her journey, and the simplicity of her weight loss journey has helped her build quite the following on social media. The mom has gained over 424,000 followers on TikTok (@laurenpolinskey) by showing that drastic weight loss doesn't need to entail grueling workouts or restrictive diets—a daily dose of movement is all it takes.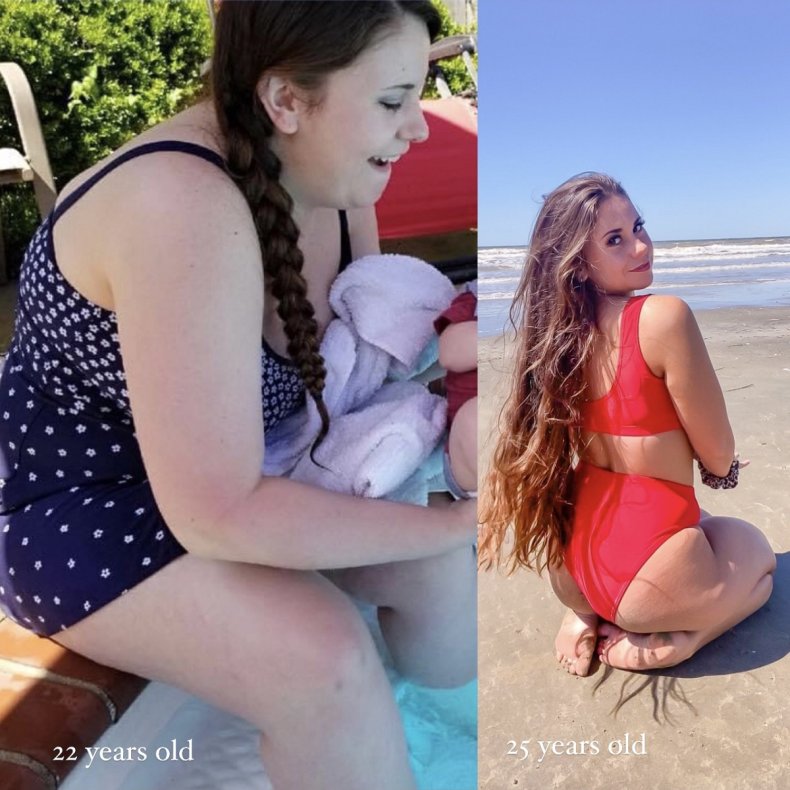 'Counting Calories Really Opened My Eyes'
Although she hasn't changed her diet all that much, Polinskey makes smarter decisions about what she's putting into her body. It was only when she started calorie counting that she became aware of how much she was indulging each day. She estimates that she consumed 1,200 calories a day solely from her daily sugary coffees.
"I hit a few plateaus, and at each one, I'd add in a new lifestyle change or healthy habit to get the scale rolling again," she said. "During the first plateau, I upped my water to half a gallon. Next, I started counting calories and eating in a calorie deficit.
"Counting calories really opened my eyes to how my weight had gotten so out of control. I was drinking 1,200 calories in coffee and hazelnut creamer alone.
"I also chose to avoid major carbs on an everyday basis to speed up my weight loss. I avoided bread, pasta, rice, potatoes, and dairy—but found delicious substitutions for them all. I have found foods that I genuinely love now. That's what I love about a calorie deficit, it's like learning a lesson because you realize there are healthier versions of so many things."
Calorie counting can be a useful tool for losing weight, as long as it's done correctly and safely. To work out how many calories to have in a day, Harvard Medical School recommends multiplying your weight by 15, giving an approximation of how many calories you need in a day to maintain your current weight.
If you are seeking to lose weight, calorie consumption should be around 500 to 1,000 calories below that total. However, it's vital that calorie intake is a minimum of 1,200 for women, and 1,500 for men each day to avoid depriving the body of sufficient nutrients.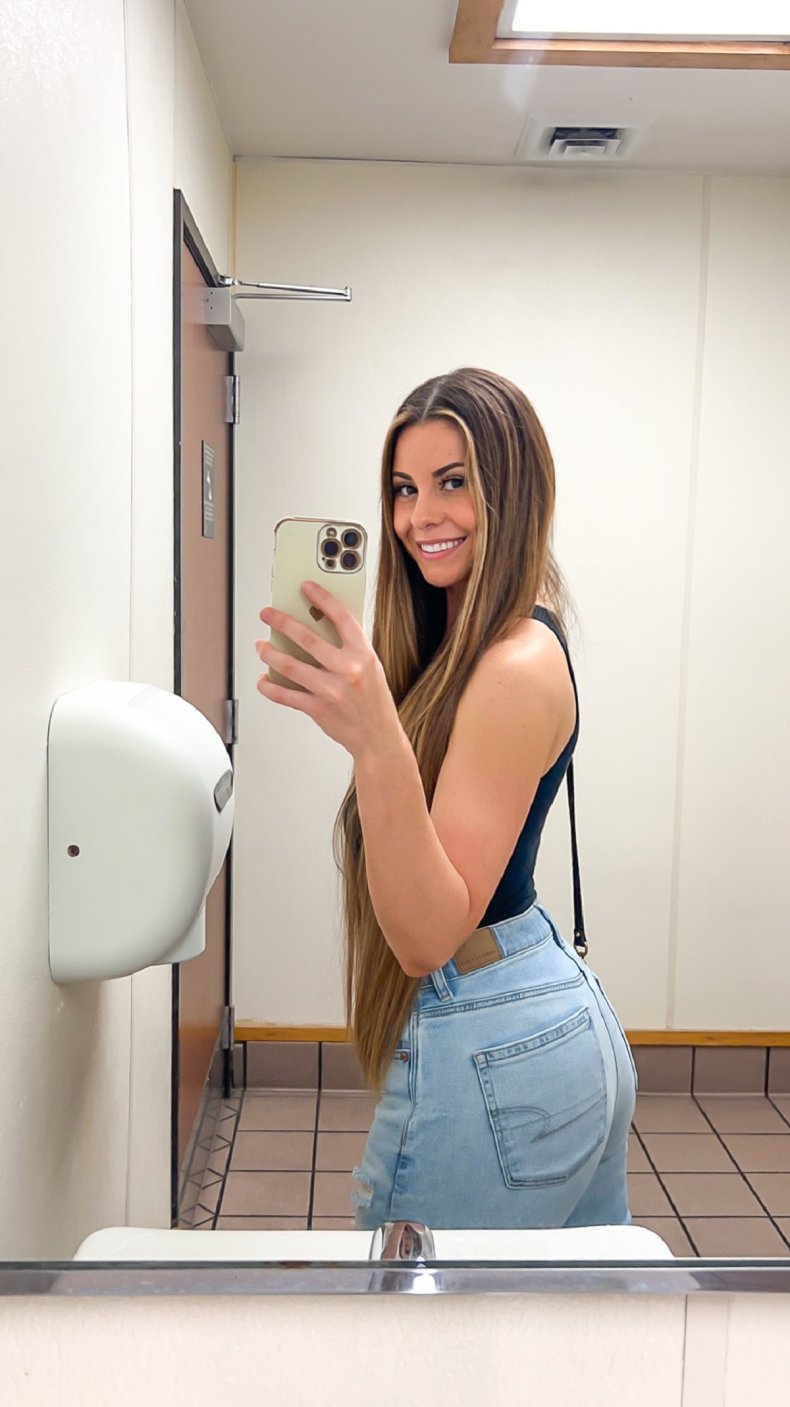 She admits that she "used to cry wanting [her] high school body back," but now she's in even better shape than she was at the age of 18. Polinskey shared a video of herself going to try on a pair of size 4 jeans for the first time, which gained over 278,000 views as people praised her commitment to bettering herself.
"Sometimes it's hard for me to believe I'm not where I used to be, and fitting in a size 4 was a reminder that I can do anything I set my mind to. I love myself and regret neglecting my needs as much as I did. I'm proud of myself for clawing my way out of the depressed, obese hole I had been drowning in.
"I hope other women know that they are not past their prime, and it is possible to glow up at any age and after having babies. All it takes is saying 'enough is enough' and realizing that self-care is extremely important."
Is there a health issue that's worrying you? Let us know via [email protected]. We can ask experts for advice, and your story could be featured on Newsweek.