Officials have issued a health warning after a harmful algae bloom was detected in a Florida lake.
A statement from the Palm Beach County Health Department said water samples taken from Lake Okeechobee—the state's largest freshwater lake—on May 17 point to the presence of blue green algal toxins.
As a result, the department is warning residents not to drink water from the lake or swim, wade, boat or water ski in areas where the algae is growing.
If anyone makes contact with the algae the health department warns they must wash their hands and clothing immediately.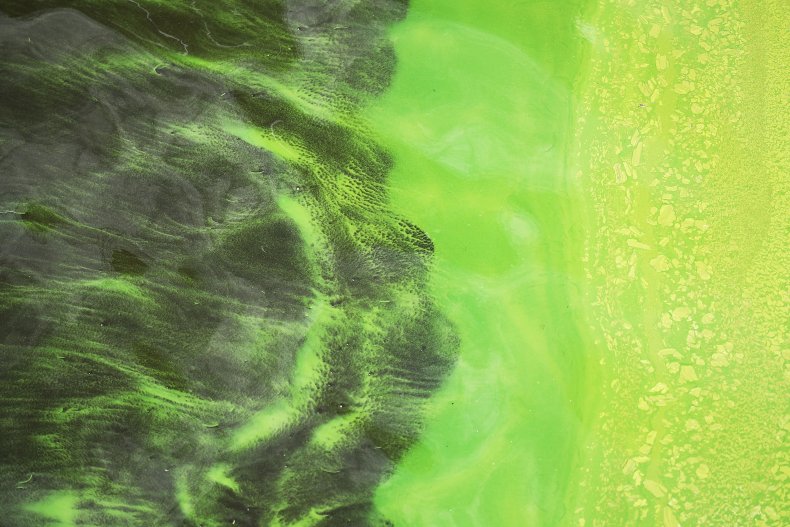 Blue green algae is a bacteria that blooms in freshwater. A bloom is detected when enough individual cells group together and discolor water.
The algae blooms can cause unpleasant smells and often produce floating mats, according to the health department. People are being warned to stay clear as toxins in the blooms can impact human health.
High exposure to the algae can cause nausea, vomiting or diarrhea. It can also cause throat or eye irritation, allergic reactions and respiratory issues.
Animals can die if they consume large amounts of water containing the algae blooms.
It is not the first time Lake Okeechobee has had a problem with such blooms. In July 2022, 45 percent of the lake was covered with them. However, this was not as extreme as 2018, when the blooms covered 90 percent of the lake and a state of emergency was declared across seven Florida counties.
The blooms usually thrive in warm temperatures, meaning they typically occur after a bout of sunny weather when the water temperature is higher than normal. This is usually paired with an excess of nutrients in the water, usually from fertilizer, wastewater or stormwater.
Although the blooms can occur at any time of year, they are most common during summer and autumn.
These toxic algae blooms are becoming increasingly common as climate change causes global temperatures to rise and waters to warm.
They not only impact human health but local marine ecosystems and aquatic animals.
Florida is also impacted by red tide, another harmful algae bloom that typically occurs in saltwater environments.
Significant levels of red tide-causing algae were detected across Florida's Gulf Coast in March. Although they have since disappeared, it is a cause for concern when such large amounts are detected.
Lucas Griffin, a postdoctoral research associate in environmental conservation at the University of Massachusetts, Amherst, told Newsweek at the time: "As this alga remains within an area, it can release neurotoxic brevetoxins that can result in loss of swimming ability, paralysis, and respiratory failure for marine life," Griffin said.
"Ultimately, beyond fish mortality, red tide can affect the reproduction of fish and larvae survival resulting in large-scale population and food web shifts for coastal species," he said. "This exposure will occur from either direct exposure or through the consumption of prey that has already been affected."
Do you have an animal or nature story to share with Newsweek? Do you have a question about algae blooms? Let us know via [email protected].