A house blocked several lanes of traffic on an interstate in Charlotte, North Carolina, after falling off the back of a truck.
"On scene of the I-485 wreck. Cars are slowing passing the house on the shoulder. All minor injuries," Joe Bruno of WSOC-TV in Charlotte wrote in a tweet on Thursday, sharing a photo of the house laying across several lanes.
A spokesperson for the North Carolina Department of Public Transportation told Newsweek that the agency's "Incident Management Assistance Program (IMAP) team was dispatched to I-485 Inner near Moores Chapel Road (Exit 12) about 10:35 a.m. after learning of a crash involving a tractor trailing hauling a mobile home."
The spokesperson also said an IMAP crew confirmed the mobile home was on the road, and NCDOT crews installed "a closure" to provide a "safe area" for first responders—including two heavy wreckers," the spokesperson told Newsweek via email.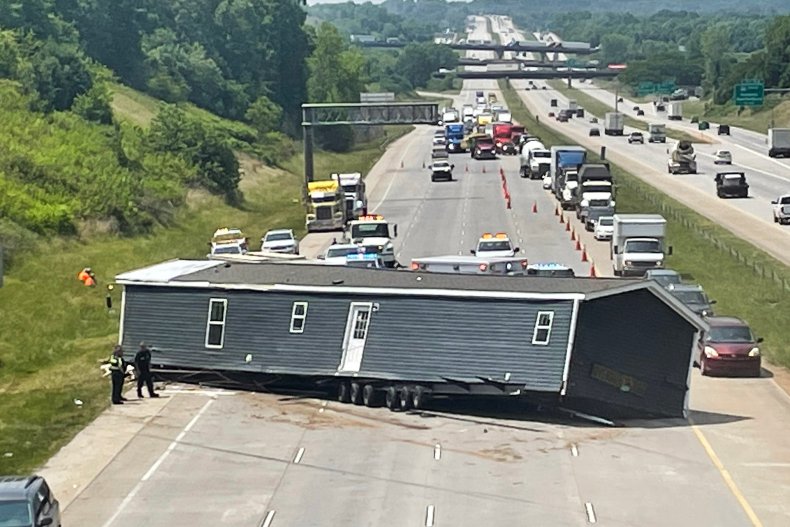 Officials with the North Carolina Department of Transportation expected the interstate to reopen later this afternoon, the spokesperson said.
Newsweek reached out to the North Carolina Department of Public Safety via email for updated information on the wreck. A spokesperson for the Charlotte Fire Department told Queen City News that the tractor-trailer carrying the home collided with another vehicle, causing the home to fall off.
In other photos posted to Twitter, several cars can be seen stuck under the home after it fell off of a truck.
"One car has been pulled from underneath the house. Incredible there were only minor injuries," Bruno said in one tweet which showed a car under the home.
Another tweet shared by Bruno captured a second car stuck underneath the home.
"Chopper 9 is over a crash involving a mobile home that was on the back of a tractor trailer. We can see 2 cars that the mobile home appears to have fallen on. Another has bad damage to the front of its car. On 485 inner loop at Moore's Chapel Rd.," Hunter Saenz of WSOC-TV wrote in another tweet showing images of the cars.
In a statement shared with WSOC-TV, Clayton Homes, which constructed the home causing the traffic jam, said "A Clayton transportation truck carrying a manufactured home was involved in an accident on I-485 near Charlotte, N.C.," it reads. "We understand no Clayton team members were injured in the accident. Safety is our company's top priority, and we are working closely with local authorities to learn more."
In another photo posted by Bruno, officials can be seen working to clear the wreckage as they placed the home back onto another flatbed truck.