Buying pre-loved goods is a growing trend, especially among Gen-Zers, who make up over 40 percent of all vintage buyers. The secondhand clothing market's value has risen from about $96 billion in 2021 to over $141 billion in 2023, and based on current trends, it's estimated to reach over $218 billion by 2026.
While buying second-hand items is good for the environment and helps give a second life to items that are still in good condition, you can also be lucky enough to find good quality designer pieces at bargain prices that are worth a fortune.
Chandler West, a 29-year-old woman from Charlotte, North Carolina, who runs her own vintage clothing shop on Etsy, almost didn't notice the fortune she had come into when she purchased a 1920s French Art Deco evening bag, from famous luxury jeweler Cartier, for just $1, not knowing what it was, and subsequently sold it for several thousand dollars.
She told Newsweek: "I had no idea [how much it was worth]! I thought it was worth more than the dollar I spent, but I did not realize how valuable it was until I started researching it about a year after buying it."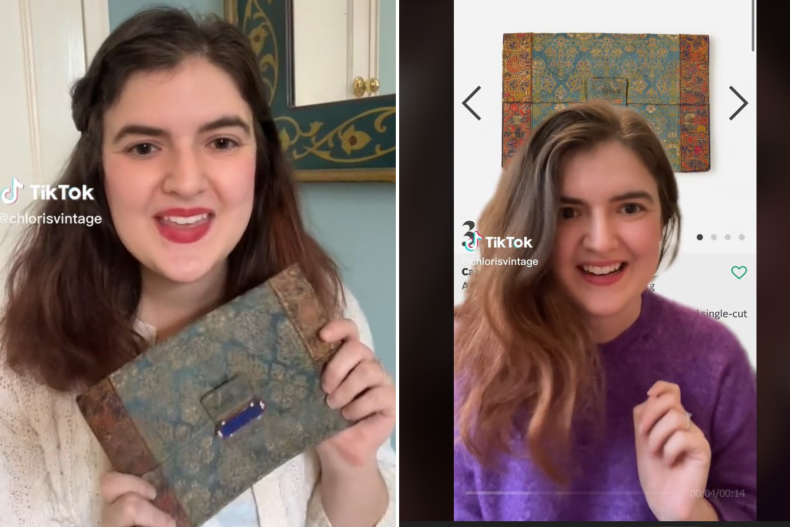 'I Knew It Was Worth More Than $1, and I Liked It!'
While purchasing items for her vintage clothing store, at an online auction-style estate sale in November 2021, West noticed a very old-looking bag that had no bids on it, and not knowing what it was worth, she was able to buy it for just one dollar.
Although she's never been particularly interested in designer bags—at least the modern ones—when she saw the bag at the auction, in that one unclear photo, West saw some potential and decided to go for it. For a whole year, the bag that ended up selling for $7,500 sat untouched in a pile of clothes waiting to be discovered.
In a video recounting her experience, she said: "I just thought it looked old, I was like I don't know when that's from but it looks old, like older than just vintage, like antique level old, so I know it's worth more than one dollar, and it's pretty and I liked it so I bought it."
I Thought It Was Fake Until I Took It to Be Checked
When she first pulled the bag out of the closet in November 2022, West had no idea whose it was or how much it was worth, and intent on finding its origins she started researching it.
The bag didn't have any evident clues, besides being a dirty 100-year-old bag overall in excellent condition. She told Newsweek: "There was a small chip in the enamel on the clasp, but no other real flaws. I believe the auction house cleaned it up a bit, but there really weren't any major repairs to be done."
She explained in her videos that the antique bag didn't have any labels or indications of where and when it could be from, and initially she was only able to figure out that the blue stones on the clasp were actually real.
"I was able to figure out from googling and stuff that it was probably real lapis lazuli, this blue stone, so I started thinking if that's real, does that mean those diamonds are real? But I wasn't thinking it really would be."
After her discovery, she decided to join a group of antique lovers on Facebook and ask them for some help, and that's when she received a shocking answer.
"It's an art deco Cartier evening bag from the 1920s. The silk jacquard fabric of the bag is inspired by 17th-century Safavid textiles. They were very popular for evening bags in France in the 1920s. I was able to learn about it with the help of a fashion historian named Adnan Ege Kutay, who I met in a Facebook group," Se said.
She was doubtful it was going to be an actual Cartier, and the fact that it didn't have a label inside didn't help, but things changed when she noticed the clasp.
"I don't know why I hadn't checked the clasp before but I'm not really a jewelry person, I'm a clothes person so looking for a signature on metal hadn't crossed my mind, but when I looked here's what I saw," she said in her video, before proceeding to show the Cartier mark on it.
The day after, she took it to a jeweler to get it checked, and he confirmed to her that the clasp had real lapis lazuli as well as 12 real small diamonds, and that the Cartier branding on it seemed authentic. However, he couldn't tell her exactly how much the bag was worth because its value did not only depend on the materials and stones it featured. Its brand and the fact it was over a hundred years old added to it.
West had bought the bag with the intention of selling it in her Etsy vintage clothing shop, but upon her jeweler's suggestion, she decided to check estate auctions instead.
"I do sometimes keep vintage pieces that I originally source as inventory if I really fall in love with them. In this case, though, I was not really tempted to do that because as beautiful as the bag is, I knew the large amount of money I would get for selling it would bring me a lot more joy than keeping it would," she said.
After checking a few auction houses she ended up choosing one that had already sold similar pieces to hers, and had told her, to her surprise, that the bag could be worth around $3,000 to $4,000.
She said: "As for how long the process took, it was pretty speedy. It was late November or early December 2022 when I discovered that the bag was made by Cartier. At that time, I realized I'd be able to make more by selling it at auction than by trying to sell it on Etsy. I got in contact with Rago Auctions in December 2022 and it was sold in their February 2023 auction. So just a couple of months!"
After initially buying the bag for just $1, West was able to make a huge profit out of it. While the auction opened at $2,000, offers kept coming in, and it ended up selling for an astonishing $7,500.
"There are fees for both the buyer and the seller," she added: "the buyer pays 26 percent buyer's premium on top of the hammer price, so the final amount they paid was $9,450. I paid 12 percent commission, so the amount of money I receive after all that is $6,600."