Footage of an officer pepper-spraying a woman and hitting her several times in the head during her arrest has proved divisive after the clip was shared online by the police department.
The scuffle broke out in the early hours of Sunday, March 19, in Lynn, Massachusetts, and Lynn Police Department shared the officer's body-worn camera footage on Wednesday in a bid to be "transparent" after a bystander's own footage circulated across social media.
The clip has sparked fierce debate over the use of force involved. Critics said the arrest was heavy-handed, with some alleging the woman was actually "assaulted." Others have insisted that the officer's actions were justified as he and his colleague attempted to restrain the woman, who they say was resisting arrest and had allegedly lashed out first by kicking and biting.
The incident unfolded after police were called to a rooming house in High Street following reports that a woman was refusing to leave another resident's unit at 5:34 a.m. Police identified the alleged offender as Jessica Wagle and confirmed that a scuffle broke out when they attempted to arrest her after she repeatedly refused to leave the premises.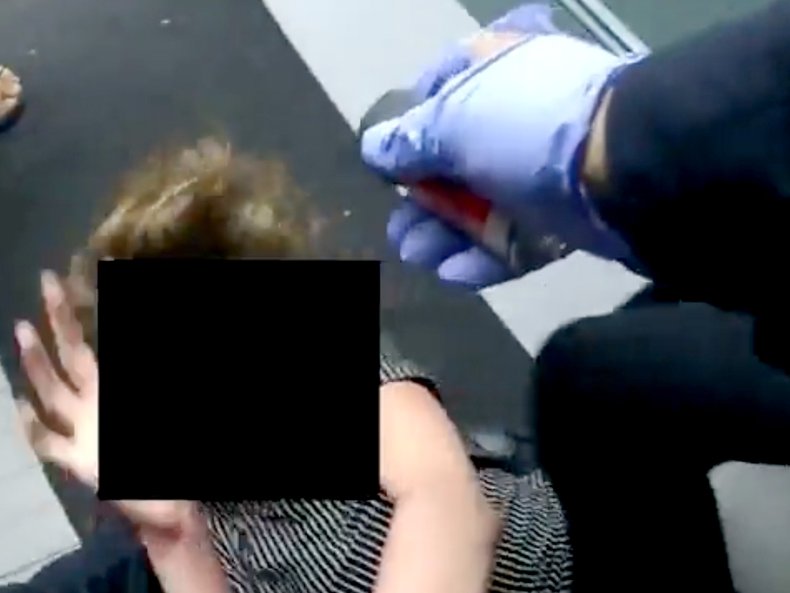 The eight-minute clip shows Wagle ignoring the officers' requests to leave the room before an officer steps inside and begins to handcuff her. At one point, she said she was "nervous" and frightened, crying: "I'm so scared, I'm so scared," as they struggled to cuff her hands behind her back. Wagle is seen screaming while being pulled into the hallway. She then ends up on the floor, which is when she is pepper-sprayed and struck in the head four times as she struggles.
Lynn Police Department shared the footage and a statement on its social media pages, reading: "The officers were familiar with Wagle from previous incidents and she was found to have two felony warrants outstanding. The officers informed Wagle that she was under arrest, however, she violently resisted their attempts to place her into custody.
"The officers gave numerous verbal commands while trying to handcuff Wagle but she refused to comply. After being taken to the ground, Wagle kicked the officers repeatedly and attempted to bite an officer in an effort to prevent them from handcuffing her."
The statement said that officers sprayed Wagle with Oleoresin Capsicum "but it did not appear to have an effect on Wagle." However, the substance "was incapacitating to the officers" during the struggle, which lasted for two and a half minutes. "During the struggle, an officer delivered strikes to the area of Wagle's head in an effort to gain compliance," the statement read.
The statement said that the incident was reported back to the police department immediately and "supervisors" were dispatched to the scene. All "use of force" incidents are investigated as a matter of course, but the statement added that "preliminary findings… reflect that the officers acted within the Lynn Police Use of Force Policy based on Massachusetts Police Training Committee standards." The statement concluded that the department was aware that "a citizen recorded a portion of the incident" which was shared online and the department released its own full-length video "in order to be transparent."
Newsweek has reached out to Lynn Police Department through its website for further information and comment.
The footage sparked controversy online as viewers reacted differently to the video.
One person wrote: "They did their job! She caused her own problem. They gave her every chance. She is who became violent." Another said: "Wouldn't have happened if she complied. Sad it came to this." And a third person commented: "No one is more critical of cops than me….I see no wrongdoing by these officers in the slightest."
Others felt the police had been out of line. One wrote: "How cowardly and inept do you have to be to beat a scared woman? Yall need new professions, perhaps as inmates." Another added: "De-escalation. The first officer came in cold and honestly lacking compassion. His partner looked embarrassed. Lynn Police Department it is time to reevaluate your use of force continuum to include compassionate de-escalation." Another Facebook user said: "Whole situation is messed up. She shouldn't have resisted and the cops shouldn't have punched her in the head, should [have] been handled different."
Wagle was slated to appear in Lynn District Court last Thursday but that hearing has been pushed back to a later time, according to local news channel Boston 25.