The Israeli government is facing the threat of "revolution" amid unprecedented opposition to plans to overhaul the nation's judiciary, which have brought widespread protests and the threat of a general strike.
On Sunday, tens of thousands of people took to the streets to protest the move by Prime Minister Benjamin Netanyahu's government, while an umbrella union that represents over 800,000 workers called for walkouts on Monday that promise to paralyze the Middle Eastern country's economy.
The reforms—which have been spearheaded by Netanyahu since he returned to the position of PM in December 2022—would rebalance the powers afforded to different branches of government under the nation's constitution. They seek to curb the Supreme Court's ability to influence the law by limiting its powers of judicial review and giving the Knesset, Israel's parliament, the authority to override its decisions.
The proposals have plunged Israel into one of its worst domestic crises in recent years, following a series of short-lived governments and political turmoil. Opponents see the overhaul as a direct threat to democratic ideals, while ministers have suggested the protesters were attempting to subvert an elected government.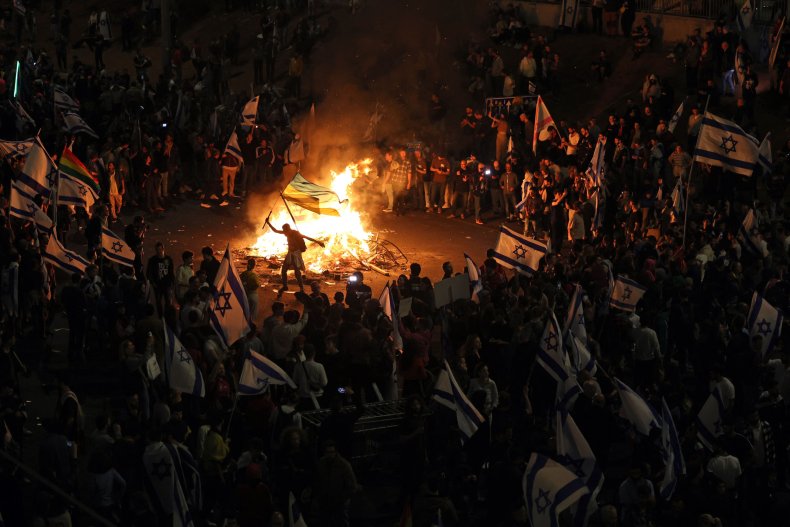 "The reform of the justice system must not be stopped and we must not surrender to anarchy," Itamar Ben-Gvir, the national security minister, said on Monday morning.
The protests at the weekend appeared as a spontaneous show of resentment to the firing of Yoav Gallant, Netanyahu's defense minister, who had called for the overhaul to be temporarily halted over a "clear, immediate and tangible danger to the security of the state." The leader of the opposition, Yair Lapid, called for the dismissal to be revoked.
According to The Associated Press, demonstrators in Tel Aviv on Sunday chanted "the country is on fire" as they lit bonfires on the city's highway and authorities dispatched water cannons.
"Scenes from Israel tonight look less like a protest and more like a popular revolution," Raf Sanchez, a foreign correspondent for NBC News, wrote on Sunday.
Newsweek reached out to the Israeli prime minister's office for comment via email on Monday.
Netanyahu—who was previously Israel's prime minister from 2009 to 2021 and 1996 to 1999—formed his latest government after five snap elections were called in less than three years between April 2019 and November 2022. Israel has never had a majority government, and has been governed by either left- or right-wing coalitions.
After no party was able to form a government following the first two votes, there were three short-lived governments headed by three different party leaders. Netanyahu's Likud party was able to form a coalition after two months of negotiations, and has looked to tighten its grip on the nation's institutions since returning to prominence.
The proposed reforms have seen opposition from many sections of Israeli society, including its military, where some reservists have said they will not "serve a dictatorial regime," they told Israeli media. Many in Israel are required to complete two or three years of mandatory service.
Israel recently passed a law that made it harder for a sitting prime minister to be deemed unfit for office, requiring Netanyahu himself or two-thirds of his cabinet to vote to do so.
Critics have argued that the law was to protect Netanyahu from being deposed over the corruption charges that have dogged him in recent years. A trial over indictments of fraud, bribery and breach of trust remains ongoing, although Netanyahu denies any wrongdoing.
Histadrut, or the General Organization of Workers in Israel, which represents 28 sectors including health, transport and local government, called on workers to strike on Monday over the planned reforms in a bid to bring the country's economy to a standstill.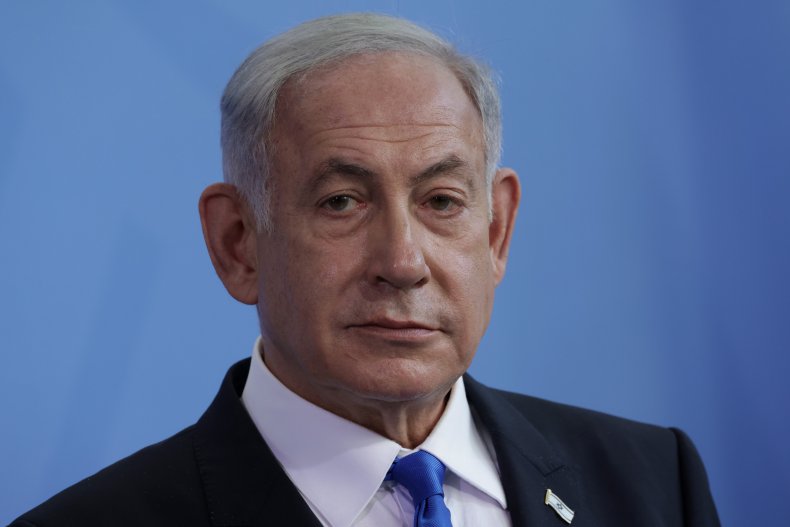 Departures at Tel Aviv's Ben Gurion Airport have been suspended due to strike action and the Israel Medical Association and the Federation of Local Authorities will also be joining the collective action.
McDonald's announced at noon local time (5 a.m. ET) that it would be beginning to close all of its branches in Israel due to the strike, with a "total shutdown" from 2 p.m. (7 a.m. ET). Meanwhile, the ports of Haifa and Ashdod told Reuters that work had halted.
Addressing Netanyahu and his government directly, Isaac Herzog, the Israeli president, a largely ceremonial role, wrote: "Deep concern surrounds the entire nation. Security, the economy, society—all are threatened.
"The eyes of all the people of Israel are on you," he added. "The eyes of the entire Jewish people are on you. The eyes of the whole world are on you."
Uri Dromi, a commentator and former government spokesperson, told the BBC that Netanyahu had "unleashed a volcano of energies which say 'enough is enough.'" He added that the reforms could be the "beginning of the end" for Netanyahu, who will likely face "much broader repercussions."
While the White House has expressed "deep concern" over the events in Israel, urging compromise, some are expecting Netanyahu to imminently announce he is halting the judicial review. However, his government has so far committed to a vote on the plans this week.