An expectant mom has drawn an angry response online after it emerged that she wanted her sister-in-law to splash out over $200 on a baby-shower gift.
Writing in a Mumsnet post shared under the username Jeffsmama, the relative wrote that they had "declined" the request. They instead "firmly" told the mother-to-be they would be choosing an alternative gift in their own price range.
Despite this, the pregnant couple's expectations have proven to be a source of much anger and discussion on social media.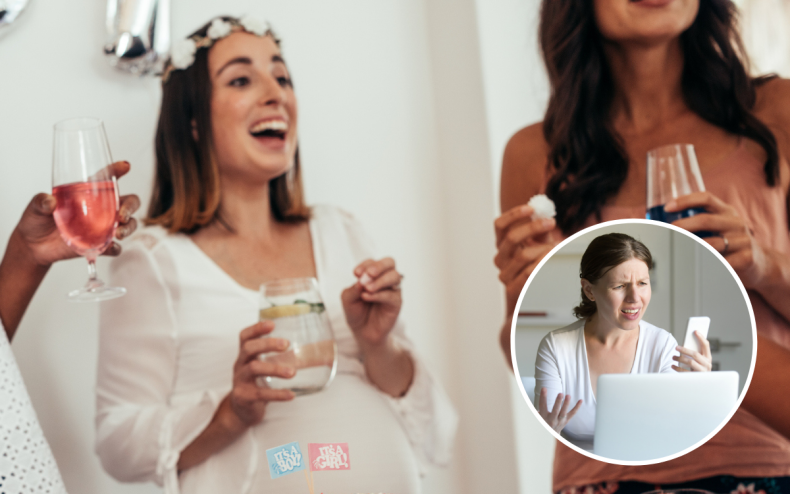 There's no denying the fact that parenthood places an incredible strain on personal finances, especially in the economic climate of soaring inflation and a potential recession.
According to Pew Research Center data published in December 2022, 1 in 4 U.S. parents said they had struggled to afford food or housing over the previous 12 months.
Similar concerns are affecting families in the U.K. where this particular expectant mom is based. So, it's not surprising to see would-be parents reaching out for support in buying everything needed to raise a young child.
It's also not unheard of for expectant moms to demand lavish gifts in preparation for their new arrival. However, in this instance, the consensus appears to be that the would-be mom and her partner overstepped the mark.
According to the Mumsnet post, the sister-in-law and her husband were not sent any baby gift wish list to choose from.
Instead, they were simply asked to spend £190 ($230) on a baby monitor. When they explained they would not be buying the gift, the expectant mom and her husband "seemed quite put out."
Despite this, the sister-in-law is refusing to budge. "We can afford to buy the baby monitor but don't feel it's our obligation to buy something on the more expensive side," the poster explained. "They have chosen to have a baby and we don't feel it's our responsibility to meet their expectations of gifting."
Lisa Mirza Grotts, a leading etiquette expert, told Newsweek that she was inclined to agree.
"Thought counts," Grotts said. "When it comes to gift giving, the goal is to show the gift receiver that you care. Determining how much to spend depends on many factors, mainly what you can afford."
Grotts added that the average expenditure on a baby shower gift in the U.S. stands at between $25 and $100, though some family members closer to the mom-to-be might spend more.
But while the etiquette expert said that, when it comes to gifts, "we get when we give," she felt it was wrong to put a specific price tag on what must be spent. "The cost of the gift should not matter, only the thought that you put into it," Grotts concluded.
Unfortunately, that's not always been the case. In one instance in June 2022, a would-be mom threw a fit when a close friend tried to give her a handmade gift.
While Grotts offered arguments for both sides, many commenting on social media were less diplomatic in their responses. "That's outrageous behavior," one Mumsnet user wrote, with another commenting: "I've heard it all now."
"It's not for anyone to dictate what you give," a third commented, while a fourth added: "The only time I would consider spending that kind of money is if the parents were struggling financially, but in that case I'd be looking to buy a decent essential item, not a baby monitor."
While the woman's behavior drew heavy criticism, it's nothing compared to one baby-shower horror story in March 2022 in which the father-to-be ended up trying to sell the gifts given to him and his wife behind her back.
Newsweek was not able to verify the details of the case.
If you have a family dilemma, let us know via [email protected]. We can ask experts for advice, and your story could be featured on Newsweek.