New Hampshire Governor Chris Sununu reacted on Sunday to former President Donald Trump's call for protests over his possible arrest and indictment by New York prosecutors next week.
The Manhattan district attorney's office has been investigating a $130,000 reimbursement to Trump's former attorney Michael Cohen for a payment made to adult film star Stormy Daniels, who claims she had an affair with Trump in 2006.
The former president is being investigated for the money paid to Daniels by Cohen to keep the alleged affair a secret ahead of the 2016 presidential election. Trump has denied having an affair with Daniels and has strongly criticized the investigation. On Saturday morning, the former president called for his supporters to protest against his possible indictment after he predicted that he'll be arrested on Tuesday.
Trump's call for protests raised concerns over possible violent demonstrations similar to the Capitol riot on January 6, 2021, when he "told his supporters to "fight like hell" after he lost the 2020 presidential election that he claimed was due to widespread voter fraud. On that day, Trump also told the crowd that they "don't have a country anymore." His supporters then stormed the Capitol building in an attempt to stop the certification of Joe Biden's victory.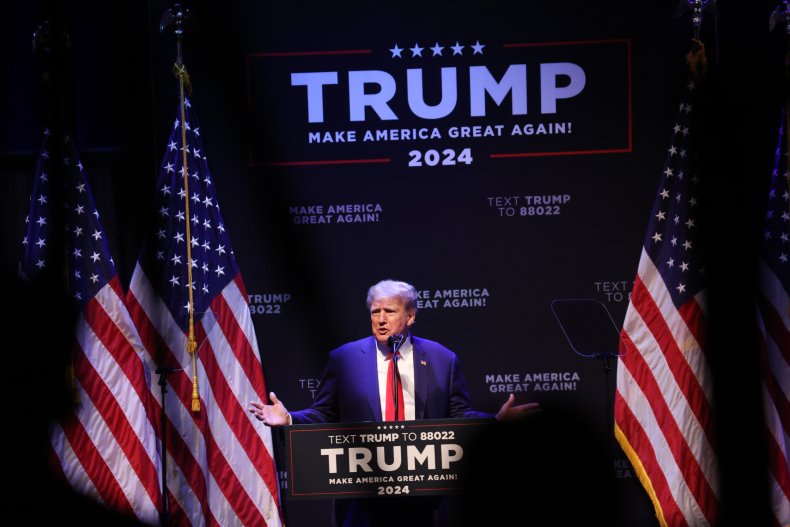 CNN's State of the Union host Jake Tapper asked Sununu on Sunday whether he thinks Trump has a responsibility to make sure his supporters protest peacefully to avoid repeating what happened on January 6, 2021.
"Look, if someone's calling for protests, you always want to make sure that they're peaceful. And we know that that's going to happen. And that has happened before. In long history, in recent history in America, folks are always out there protesting what they see as an unjustified arrest or an unjustified indictment. But you want to make sure it's peaceful. We don't want history to repeat itself in overly negative ways. But — so, that's going to happen out there.
He continued: "And it's not — you can't just put it on the former president. It's our responsibility, right, in society, in our communities, to make sure that, if we have something to say, we're doing it in the right way, and making sure we're making a positive effect going forward. But it is going to be a circus, right? It is going to be a bit of a political circus. There's going to be a lot of unknowns [about possible charges against Trump]."
In his call for protests, Trump wrote in all caps on his Truth Social: ""NOW ILLEGAL LEAKS FROM A CORRUPT & HIGHLY POLITICAL MANHATTAN DISTRICT ATTORNEY'S OFFICE, WHICH HAS ALLOWED NEW RECORDS TO BE SET IN VIOLENT CRIME & WHOSE LEADER IS FUNDED BY GEORGE SOROS, INDICATE THAT, WITH NO CRIME BEING ABLE TO BE PROVEN, & BASED ON AN OLD & FULLY DEBUNKED (BY NUMEROUS OTHER PROSECUTORS!) FAIRYTALE, THE FAR & AWAY LEADING REPUBLICAN CANDIDATE & FORMER PRESIDENT OF THE UNITED STATES OF AMERICA, WILL BE ARRESTED ON TUESDAY OF NEXT WEEK. PROTEST, TAKE OUR NATION BACK!"
In their investigation against Trump, New York prosecutors found that the Trump Organization recorded the reimbursement to Cohen as legal expenses. However, it is against state law in New York for companies to misclassify the nature of expenses. This could lead to a misdemeanor charge for Trump, which might later become a felony if the misclassification took place in order to cover up another crime.
In addition, Cohen testified before a grand jury for two days last week and has previously pleaded guilty to campaign finance charges after helping with the payment arrangements, while Daniels spoke to New York prosecutors on Wednesday.
Newsweek reached out to Trump's media office via email for comment.