The Kremlin is searching for Russian President Vladimir Putin's replacement amid growing dissatisfaction with the Ukraine war, according to a Ukrainian intelligence official.
Putin launched his "special military operation" on Ukraine on February 24, 2022, aiming for a quick victory against the Eastern European country, which at the time was perceived to have a much weaker military. However, Kyiv's stronger-than-expected defense, which has been bolstered by Western military aid, blunted Russian military gains.
After more than a year of combat, Russia's invasion continues to stagnate, with Ukraine retaking thousands of square miles of formerly occupied territory last fall. Fighting remains concentrated in the most eastern part of the country, where Russia's attempt to take control of Bakhmut have slowed in recent days.
Russia has generally stood behind Putin throughout the war, though there have been signs that some individuals have grown weary of it amid mounting losses. The widely-condemned war prompted the West to issue sanctions weakening Moscow's economy and has resulted in the deaths of more than 160,000 Russian troops, according to Ukraine.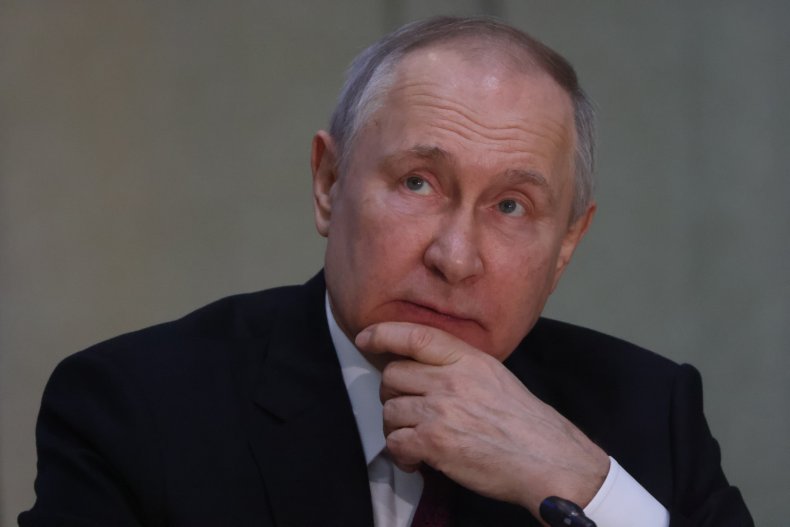 Amid growing dissatisfaction, Ukraine now believes the Kremlin is searching for Putin's successor.
Andriy Yusov, a spokesperson for Ukraine's military intelligence directorate, said in recent remarks that the search comes as "the circle around Putin is narrowing." Putin is becoming "more and more toxic," even within Russian borders, according to Yusov.
"Within the Kremlin, there is more and more dissatisfaction with what is happening," Yusov said. "There is an increasingly gloomy understanding of the prospects, specifically the geopolitical catastrophe of the Putin regime. Thus, the search for Putin's successor is already underway."
He added that Putin is no longer involved in selecting his eventual successor. Yusov's remarks were first posted to Twitter on Saturday and translated by Anton Geraschenko, an adviser to the Minister of Internal Affairs of Ukraine. Yusov did not name any potential candidates to follow Putin.
Russia has not publicly commented on Yusov's remarks, and it remains unclear whether or not replacing Putin would solve the issues within the Russian military. Some critics have chided Putin for classifying the invasion as a "special military operation" rather than a "war," thus limiting the military's ability to launch a full mobilization.
Experts, however, point to other issues for the floundering invasion, including challenges retaining well-motivated soldiers, particularly amid the cooler winter months, and issues with military leadership.
Questions about Putin's future also come as the International Criminal Court (ICC) issued an arrest warrant for Putin on charges of war crimes on Friday. Although Putin is unlikely to be arrested, the warrant will greatly limit his ability to travel, as most counties recognize ICC sovereignty.
Newsweek reached out to the Russian Foreign Affairs Ministry via email for comment.