As tensions ratchet up between the United States, China and Russia, a high-level Ukrainian defense official does not foresee China getting involved in the war.
Chinese weapons transfers to Russia have been publicly and privately denied by Beijing in recent days. China's top foreign affairs official, Wang Yi, was confronted by American and European counterparts at last week's Munich Security Conference about aiding Russia's invasion.
"I can't tell you that China is going to be brave enough to give weapons to Russia," Oleksiy Danilov, secretary of the National Security and Defense Council of Ukraine, said virtually during a one-year war defense update Tuesday at the National Press Club in Washington, D.C. "This is a very risky situation, and more so we don't see any sort of reason for China to help Russia."
Prior to invading Ukraine, Danilov said Russian President Vladimir Putin met with Chinese leadership including President Xi Jinping to relay his intentions "and he promised this was going to happen in a very short period of time."
"If this would have happened, China would be acting completely different," said Danilov, who spoke via interpreter Mykola Hryckowian. "Now, China is going to be looking at this process."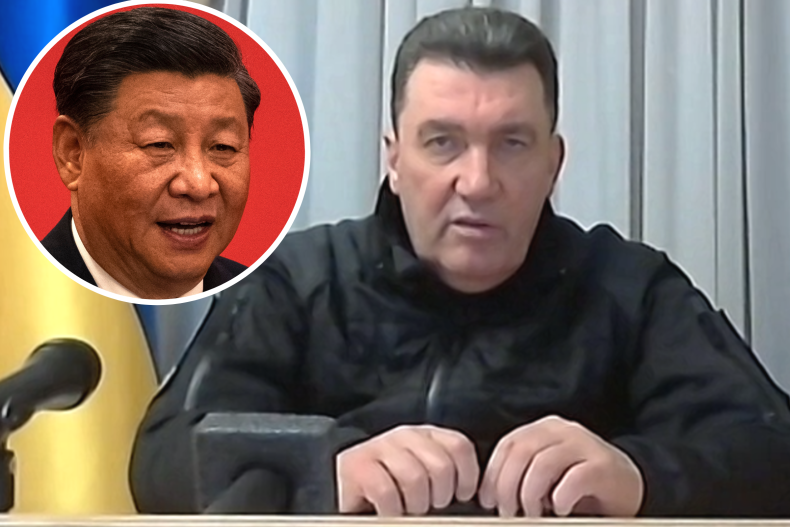 The secretary said he was privy to China's 12-point peace plan unveiled Friday to help lead toward a peace agreement and conflict resolution.
Its main tenets include respecting sovereignty and territorial integrity of both countries, along with resuming dialogue between Moscow and Kyiv to avoid further escalation. It also urges the abandonment of a "Cold War mentality" while ensuring the safety of nuclear power plants.
The peace plan was partially praised by Kremlin spokesperson Dmitry Peskov.
"Any attempts to develop plans that will help transfer the conflict to a peaceful course deserve attention," Peskov told the media, according to the state-owned RIA Novosti news agency. "We treat the plan of our Chinese friends with such great attention."
However, Peskov warned that details are paramount, adding that "the interests of the parties [are] very different" and lend themselves to "a very lengthy and stressful process."
Danilov said Tuesday he was aware of the plan and monitoring it "even though there is clear explanation what Russia is and why they started this war," he added.
"I'm almost sure that the Western world understands this problem: the weakness of Russia and the presence of China as a neighbor will try to take advantage of the moment in the Far East of Russia, and in Kazakhstan," Danilov said. "This has to be monitored intensely in the near future."
In regards to territorial sovereignty, he claimed the present moment will lead to Russian fallout in the same vein as the fall of the Soviet Union.
"After this war, there will be a different order in the post-Soviet space," Danilov said. "It's going to be the final end of the USSR and all of the countries that support Russia; they will stop working with Russia in the way they're doing it today. … This is the beginning of the collapse of the Soviet empire."
That "collapse" to which he alluded could "definitely happen" in three, five or seven years, he said.