Immigrant rights groups are pushing President Joe Biden to back an ambitious reform agenda ahead of the 2024 election, as pressure grows for Biden to shore up support with Latino voters who'll play a critical role in his potential reelection campaign.
As a presidential candidate, Biden promised that if elected he would deliver meaningful immigration reform. But leading immigrant advocacy groups frustrated with a lack of progress are calling on Biden to take aggressive executive actions before the next election to make good on his campaign promises, according to a copy of a new policy blueprint reviewed by Newsweek.
"President Biden made a lot of commitments on immigration when he ran in 2020," said Sergio Gonzales, the executive director of The Immigration Hub. "Come 2024, the president needs to have a really clear message saying this is what I committed to, and here's the progress we made."
Report Calls for Sweeping Reforms
The annual report, which is being released publicly later this week, serves as a policy roadmap and priorities wish list for sweeping reforms to the immigration system.
But this year's proposal also offers a stark assessment of Biden's record on immigration, at a moment when the path forward on immigration-related legislation in Congress is uncertain after Republicans won back control of the House.
Biden receives credit in the report for reducing the government's backlog of visa applications, reforming immigration enforcement in the interior of the country, and closing several detention centers with track records of abusive conditions, among other measures.
But in laying out their priorities for the coming year, advocates singled out the administration's failure to make progress on a range of issues, including providing legal pathways to citizenship for the roughly 11 million undocumented immigrants in the United States.
"The Biden administration is at a crossroads on its immigration policy agenda entering the halfway point of its first term," the report says. "It must decide whether it will accelerate its work to make good on its promises, or instead, fail to deliver on key commitments."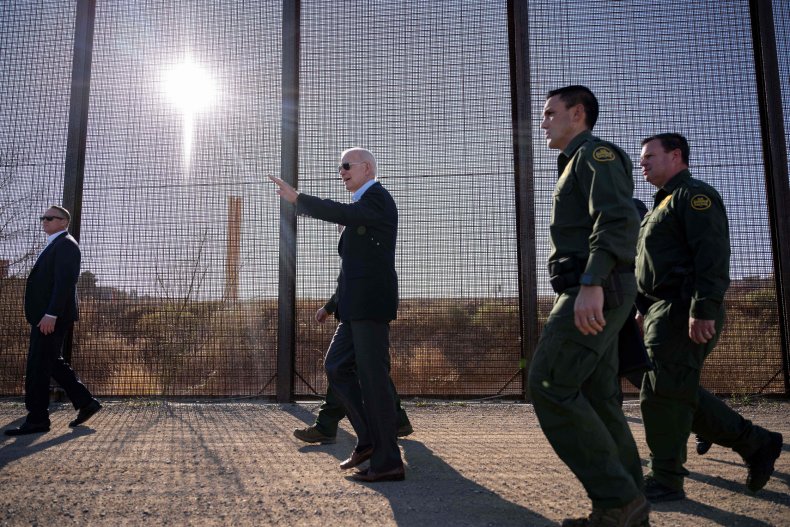 The blueprint calls for Biden to designate Guatemala, El Salvador, Honduras and Nicaragua for Temporary Protected Status. TPS allows immigrants living in the U.S. who are from nations that are unsafe to return to because of war, environmental disaster or other crises to remain in the county.
The Biden administration made Venezuela eligible for TPS last year and extended the designation for the country this year, while also designating Afghanistan, Ukraine and other nations. But Biden has not reversed the Trump administration's decision to end the program for hundreds of thousands of migrants from Central America.
Immigration advocates also want the Biden administration to have an emergency "resiliency plan" in place if courts strike down the Deferred Action for Childhood Arrivals program, or DACA, which shields young undocumented immigrants known as "dreamers" from deportation.
A Biden administration final rule last year codifying the Obama-era program is stuck in a legal battle that could wind up back before the Supreme Court. More than 800,000 people have been granted protection under DACA since the program was created in 2012.

Biden Struggles with Trump Immigration Legacy
The policy blueprint also calls on Biden to take further steps to roll back other immigration restrictions put in place by former President Donald Trump.
Biden proposed a comprehensive immigration reform plan shortly after taking office, but it never gained traction in Congress. A bipartisan immigration push failed last December, and the odds of a new effort succeeding this year are seen as low.
Facing opposition from Republicans in Congress, Biden has sought to end some Trump-era immigration rules on his own, but the moves have stalled amid legal challenges from Republican-led states.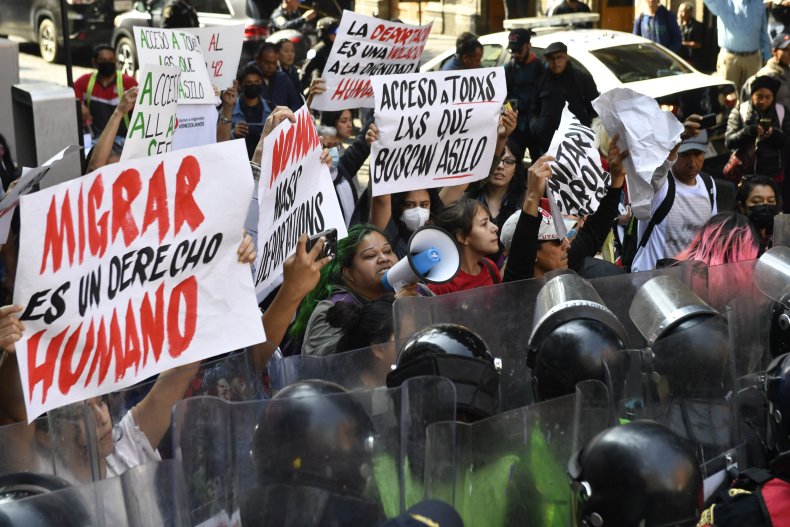 A federal judge last year blocked the administration from rescinding Trump's "Remain in Mexico" policy, which forced tens of thousands of migrants to wait in Mexico while their asylum cases are processed in the United States.
Separately, the Supreme Court issued a temporary stay last December blocking the administration from lifting Title 42, a public health order Trump invoked at the beginning of the pandemic to stop migrants from seeking asylum in the U.S. The Supreme Court is expected to make a final ruling on the issue later this year.
Biden angered immigrant advocates and Democrats in Congress in January by proposing a new border management strategy that would expand Title 42 while the program hangs in limbo before the Supreme Court.
The rule would open a legal pathway for up to 30,000 asylum-seekers a month from Haiti, Nicaragua, Cuba and Venezuela. But it would also use Title 42 to expel migrants from those countries who cross the border illegally without first seeking humanitarian parole to enter the U.S.
In announcing the plan, Biden said it would help alleviate the recent increase in asylum-seekers. U.S. Customs and Border Protection reported 2.3 million encounters between migrants and border patrol agents at the Southwest border in fiscal year 2022, a near-record high.
But the president acknowledged the actions would not "fix our entire immigration system," and he blamed Republicans for refusing to work with him on the issue.
"It's clear that immigration is a political issue that extreme Republicans are always going to run on," Biden said in the January speech rolling out the new border plan. "But now they have a choice: They can keep using immigration to try to score political points or they can help solve the problem."
Critics of Biden's new plan, which was made official in a proposed rule published last week, argue it represents a major shift in asylum policy. It has drawn comparison to Trump's "transit ban," which targeted migrants who entered the U.S. without first applying for asylum in a third country.
Administration officials have defended the proposed rule change. But advocates urged Biden to reconsider the plan, and said he'll have to do more—beyond blaming Republicans—to show voters he's delivered on immigration before the 2024 election.
Latino Voters Crucial Bloc in 2024 Election
Some 16.6 million Latinos voted in the 2020 presidential election, a 30.9% increase from 2016, according to a comprehensive study by the UCLA Latino Policy and Politics Initiative. The study found Latino voters were decisive in several battleground states—including Arizona, Georgia, Pennsylvania and Wisconsin—that helped Biden win the election and that will play a pivotal role in 2024.
Polls show immigration is a top concern for a majority of Latino voters, along with the economy, health care and other issues. That is especially true for younger voters who will help drive Latino turnout in 2024, said María Teresa Kumar, the founding president of Voto Latino, an advocacy group that signed onto the report coming out this week.
Biden should improve his messaging on immigration while acting aggressively on his own if there's no movement on immigration in Congress before the next election, Kumar said.
"Everything he signs through executive orders may not hold up in court, but it's the best tool he has to engage with the public," Kumar said. Prioritizing immigration reform "is the right thing to do for the American people but it's also the politically smart strategy."