A Chinese military pundit said Russia may be launching a new threat in the Black Sea after a joint navy exercise with China and South Africa.
On Monday, Russian state media outlet Tass reported that a group of Russian warships will continue long-distance deployment missions after joint exercises with the Chinese and South African navies in the Indian Ocean.
During the three-day exercise, the three navies conducted joint tactical maneuvering. Tass cited a press statement from Russia's Northern Fleet that said the warships participated in artillery drills, mine sweeping and rescue operations. These operations were led by the Russian frigate Admiral Gorshkov and the medium-sized sea tanker Kama.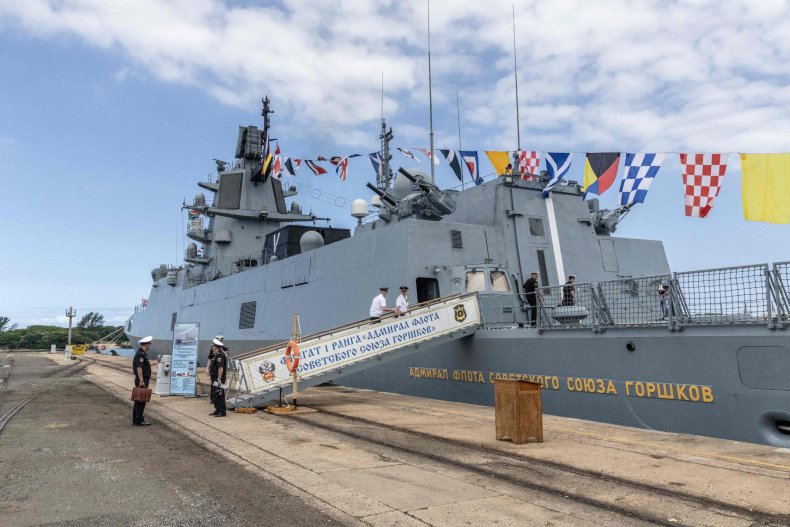 Song Zhongping, a former instructor in the People's Liberation Army, said these exercises were meant to test the Russian frigate's long-range deployment capacity for a possible attack on Western air defense systems in the Black Sea.
"It is possible the [ship-based] Zircon missile system would be deployed by the frigate to support the Black Sea Fleet, whose combat capability was weakened in the aftermath of the sinking of its flagship, the Moskva guided missile cruiser, [last April]," he told the South China Morning Post.
Song is an adjunct professor and pundit for Hong Kong's Phoenix TV and a frequent contributor to the Global Times, China's tabloid.
The Russian military has denied that it was planning to test its new Zircon hypersonic missiles during the navy drills. Last week, Russian Navy Captain Oleg Gladkiy said the drills will not involve "the firing with the hypersonic missiles," the Associated Press reported.
During a press conference, Gladkiy, through a translator, told reporters to not "find any hidden idea" during these joint events between "friendly nations."
Song said these Russian hypersonic missiles could pose a major threat to Ukrainian forces and Western allies, as the weapons are capable of penetrating NATO air defense systems and "destroying surface targets in Ukraine."
"It's a great test for the Russian frigate in terms of the vessel's overall sea trial capability, which helps crew members cope with their new and challenging deployment tasks," he said.
Ukraine's Southern Military Command reported that Russia had deployed additional ships in the Black Sea on Tuesday. There are currently 17 vessels, including five missile carriers and two submarines. This number of ships can carry up to 32 Kalibr missiles, the Southern Command reported.
Western allies have warned that Russian warships in its Northern Fleet have been deployed with tactical nuclear weapons.
Earlier this month, the Norwegian Intelligence Service reported that "a central part of the nuclear capabilities is located on the North Fleet's submarines and surface vessels." It added that Russia's tactical nuclear weapons pose a "particularly serious threat" to NATO countries.
"In addition, Russia has, among other things, underwater capabilities, anti-satellite weapons and cyber tools that can threaten Norway and NATO," the report said.
Russia and China have maintained close relations throughout Russia's invasion of Ukraine. During a press briefing last week, Russian Foreign Ministry spokeswoman Maria Zakharova said the current state of Russian-Chinese relations "was highly praised" during the recent visit of Chinese diplomat Wang Yi to Moscow.
"We welcome China's interest in playing a positive role in the settlement of the Ukraine crisis," Zakharova said, noting Ukraine's unwillingness to hold peace talks. "Unlike Ukraine, Russia has never refused a dialogue or a search for a diplomatic approach to settle the conflict."
U.S. Secretary of State Antony Blinken said Tuesday that China would face sanctions if it provides military support to Russia.
"China can't have it both ways when it comes to the Russian aggression in Ukraine," he said during a press briefing with the Kazakhstan foreign minister. "It can't be putting forward peace proposals on the one hand while actually feeding the flames of the fire that Russia has started with the other hand."
China maintains that it has been "actively promoting peace talks and the political settlement of the crisis," according to Foreign Ministry spokesperson Mao Ning.
Newsweek reached out for comment to the Russian Defense Ministry.