In Pamela, a Love Story, Pamela Anderson looks back at her life, her rise to fame, and her family set up with sons Brandon Thomas and Dylan Jagger.
Anderson shares her two sons with her ex-husband Tommy Lee, the drummer of Mötley Crüe, to whom she was married from 1995 to 1998.
Although the documentary keeps its focus firmly on Anderson, her children appear in the Netflix film, which may prompt viewers to wonder what they do.
Here is everything that you need to know about Dylan Jagger.
Who Is Dylan Jagger? What to Know About Pamela Anderson and Tommy Lee's Son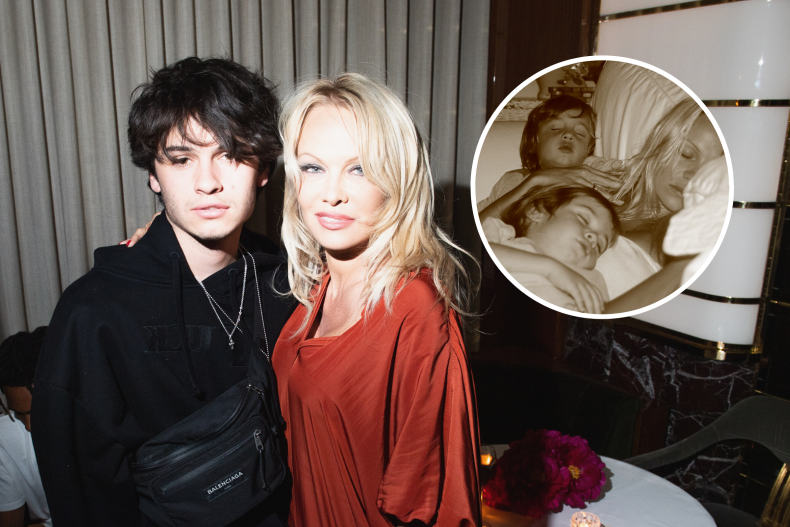 Dylan Jagger is Anderson and Lee's younger son. He is 25-years-old and he works as a model and a musician.
He began his modeling career in 2016 when he walked the runway at the Saint Laurent 2016 show, and he has also worked with brands like Coach, Dolce & Gabbana and Hugo Boss over the course of his career.
Dylan Jagger also chose to follow in his father's footsteps for a time by starting a musical project named Midnight Kids.
The group consisted of Dylan Jagger and Kyle Girard and they released an EP called "The Lost Youth" in 2020. However, in January 2021 it was announced that Dylan Jagger was leaving the project and Midnight Kids would continue with just Girard.
In a statement shared on Twitter, Dylan Jagger said he was keen on "moving in a different musical direction that feels more true to me."
He later began another musical project named Motel 7, and the group released the EP "Headphones" in March 2022.
In an interview with W Magazine in 2017, Dylan Jagger expressed his love for music by saying: "If I'm in for the night, I'm writing music. I'm either playing the piano, playing the guitar or producing on my computer. That's usually my night every day. Music, music, music!"
Brandon Thomas and Dylan Jagger Lee in 'Pamela, a Love Story'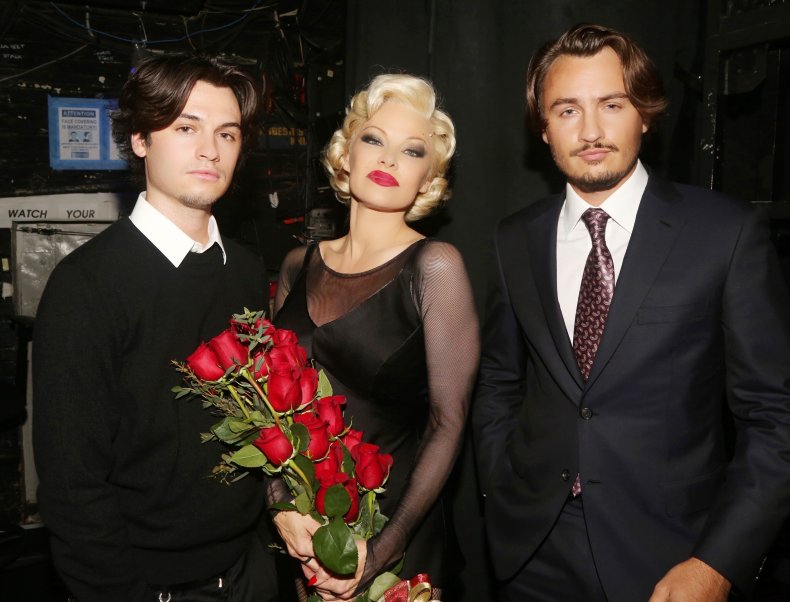 Anderson's sons both appear in the documentary as moral support for their mother as she looked back at her life, including through home videos with them as they were growing up.
The model's elder son also acted as an executive producer for the film, which director Ryan White told Newsweek was because he was keen to ensure his mother "felt some sort of safety" while speaking frankly about her life.
"Brandon's great, I mean he's like a kid to me because he's only 26 but he's incredibly wise beyond his years. He's been through a lot in his 26 years," White said.
"He is a very savvy business person, he is incredibly smart. But he's also very creative. You always worry about that when you're beginning of film, like, do you want a family member working on the film? And I realized very early that this is a very unconventional family.
"This is not your typical son and mother, where the son is going to try to protect the image of his mother, they have let it all hang out their entire lives so it was clear from the beginning they had nothing to hide, they are a very open family.
"And so my concerns about that were laid to rest very early on when I realized Brandon's main job was going to be access and it was going to be the family archival [footage]."
White added: "I could have never achieved what I did in this film [without him], getting the access to literally every tape that Pamela has ever shot in her entire life, and literally every diary and journal that she's ever written since she was a little girl —we had to bring them back in a cargo van from Canada, there was so many of them.
"Pamela didn't read them, Brandon never looked at them. They allowed us to dive into all of that and use it freely in the film and that's because I think Pamela felt some sort of safety, some sort of stopgap that Brandon was a part of the process, because she didn't want to be involved day to day but she knew her son was working with us.
"She knew her son trusted us and therefore she could trust us to use those diaries with those archival tapes to not burn her again. And, so, he really was invaluable as part of the whole calculus of the filmmaking team."
Pamela, a love story is out on Netflix now.