Former President Donald Trump pledged to sign a flurry of executive orders targeting gender-affirming health care for transgender youth.
Gender-affirming health care has emerged as the latest culture war issue conservatives have railed against, with leading Republican politicians pushing for bans on procedures allowing transgender youth to undergo gender transitioning, arguing these procedures equate to child abuse.
However, experts on LGBTQ health care say gender-affirming care—which includes surgical procedures, hormone therapy and puberty blockers to help transgender individuals' physical appearance align with their gender identity—offers important supportive care that helps improve the mental health of many transgender individuals.
Trump, who is running in the 2024 Republican presidential primary following his defeat in the 2020 election, announced plans in a video posted to Twitter to sign a series of executive orders to roll back gender-affirming care, which he dismissed as "the chemical, physical and emotional mutilation of our youth."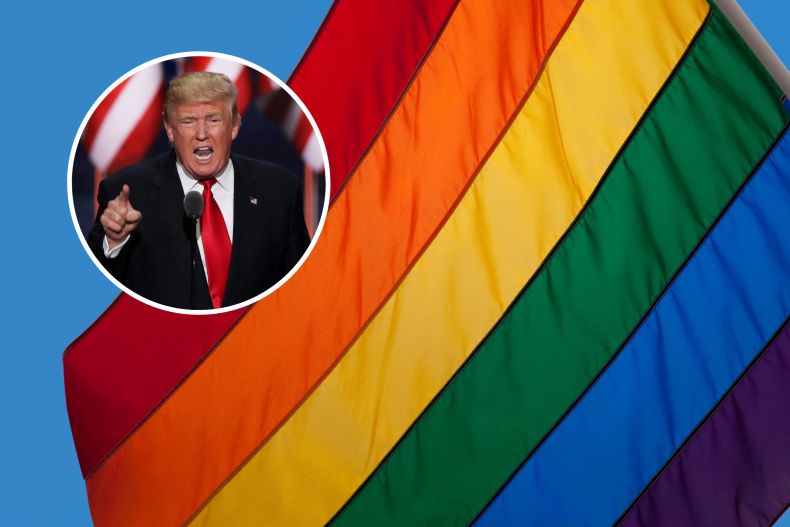 "The left-wing gender insanity being pushed on our children is an act of child abuse," he said in the video.
Trump pledged to sign an executive order "on day one" that would instruct federal agencies to cease all programs that "promote" gender transitioning for transgender youth. Furthermore, he said he would ask Congress to prevent taxpayer funds to be used on these procedures and pass a law banning gender-affirming care "in all 50 states."
He continued to say he would declare any hospital that allows gender-affirming care as no longer meeting standards for Medicaid and Medicare and order the Justice Department to probe whether hospitals covered up side effects of transitioning for financial profit—though there is no substantial evidence this has occurred.
Trump would also order schools to issue "severe consequences" against teachers who suggest students may be transgender. He also supported other policies, including that the U.S. would not officially recognize genders other than male and female, requirements for schools to teach benefits of the "nuclear family," and limits on transgender women from playing in women's sports.
Trump also claimed that the "radical left" "invented" transgender identities only in the past few years, despite transgender people existing throughout history.
Critics Slam Trump's 'Beyond Sick' Promises
His announcement comes as many in the LGBTQ community sound the alarm about an uptick in homophobic or transphobic rhetoric, including the resurgence of "groomer" accusations, as well as recent violent incidents against gay or transgender individuals.
Sarah Kate Ellis, president and CEO of GLAAD, wrote in a statement to Newsweek that his "claims and promises are as fake as he is."
"Every major medical association and leading health authority supports gender-affirming care, which has the widespread consensus of both the medical and scientific communities, and saves lives," Ellis wrote. "GLAAD has documented the false and harmful rhetoric from the former president, counting more than 200 attacks against LGBTQ Americans throughout his disastrous one and only term. This is more of the same tired extremist bloviating that voters have rejected in the last three elections."
USA Today columnist Rex Huppke tweeted: "It appears Trump and DeSantis are battling to see who can do a better job at dehumanizing an entire swath of humanity that we know has an inordinately high rate of suicide. This is beyond sick, and voters outside their cruelty-addicted bases—a large majority—will be repelled."
Despite conservative attacks, many health care experts support gender-affirming care for minors. Dr. Moira Szilagyi, the president of the American Academy of Pediatrics, described the care as "medically necessary and appropriate" in an August 2022 post.
"The decision of whether and when to start gender-affirming treatment, which does not necessarily lead to hormone therapy or surgery, is personal and involves careful consideration by each patient and their family," Szilagyi wrote.
During Trump's presidential tenure, his policies surrounding LGBTQ rights, specifically those for transgender individuals, were often seen as discriminatory. For instance, he faced substantial backlash after banning transgender people from serving in the U.S. military.
Newsweek reached out to LGBTQ advocacy organizations for comment.