Russian Foreign Minister Sergei Lavrov on Tuesday said he was given a message from U.S. Secretary of State Antony Blinken that said little more than for Russia to "stop" its war in Ukraine.
Lavrov said the message was delivered to him by Egyptian Foreign Minister Sameh Shoukry. Blinken recently met with Shoukry while visiting the Egyptian capital Cairo before Shoukry traveled to Moscow for talks with Lavrov and other Russian officials.
In remarks made after his meeting with Shoukry, Lavrov said that Russia would be open to a "serious proposal" from the United States that is "aimed at resolving the current situation" in Ukraine, according to the Russian state-controlled outlet RT. However, Lavrov said Blinken's message contained no such proposal.
According to TASS, another Kremlin-controlled outlet, Lavrov said Blinken's message said that "Russia should stop [the war], that Russia should quit, and then everything will be fine."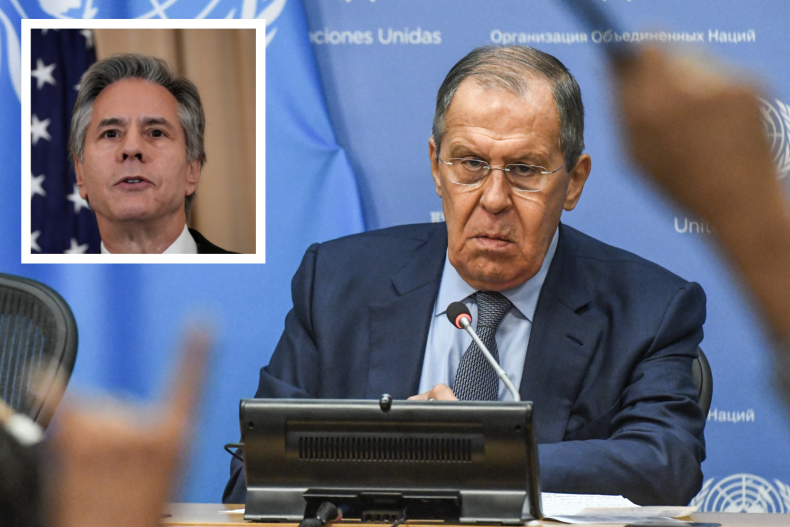 "Blinken omitted something," Lavrov continued before claiming the objectives of the U.S. and Ukraine's Western allies had been more clearly made by NATO Secretary General Jens Stoltenberg on Monday during a visit to Seoul, South Korea.
"He [Stoltenberg] said in one of his speeches that Russia must lose, must be defeated, and that the West cannot afford to let Ukraine lose, because in that case, he argued, the West will lose and the whole world will lose," Lavrov said.
"Everything is quite clear here. It's not about Ukraine at all," Lavrov said, according to TASS. "The Kyiv regime, which has no independence, fulfills the will of the sovereign—the United States and the rest of the West, which Washington has subjugated—[and will] not permit any events in the international arena that would somehow call into question the U.S. claims to hegemony in the modern world."
In public remarks made in Seoul, Stoltenberg said it was "extremely important" that Russia doesn't win the war. He said a victory by Russian President Vladimir Putin's forces would be bad for Ukraine and send a dangerous message to authoritarian leaders such as President Xi Jinping of China "that they can get what they want through the use of force."
Stoltenberg also called on South Korea to provide Ukraine with weapons despite the country having a law in place that prohibits supplying weapons to countries engaged in conflict.
Since Russia's invasion of Ukraine last February 24, Kremlin officials have tried to link NATO and the West to the war. In December, Lavrov told a Russian TV station that "[t]he collective West, which is headed by a nuclear power—the United States—is at war with us."
Newsweek reached out to Russia's Foreign Affairs Ministry and the U.S. Department of State for comment.