Representative George Santos could face legal implications after his campaign's treasurer resigned, according to legal experts.
Santos, a New York Republican, has been under scrutiny after The New York Times reported just weeks after he won his election that large swaths of his purported biography and resume, including his academic and professional experience, were falsified.
Amid this scrutiny, his campaign's treasurer Nancy Marks resigned last week, prompting concerns about whether or not Santos' campaign would be able to fill the key position. He initially said Thomas Datwyler would be appointed to the role, but he has since rejected that appointment, according to the Times.
There are several ways not having a treasurer can create setbacks for a campaign. Essentially, without a treasurer, campaigns cannot accept political contributions, spend money or file regular Federal Election Commission (FEC) disclosures, attorney and former federal prosecutor Neama Rahmani explained to Newsweek on Tuesday.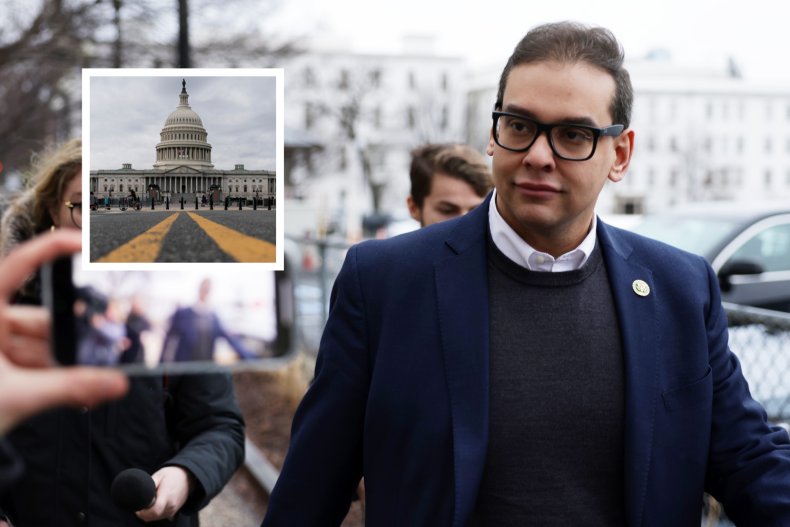 "Every committee has to have a treasurer. It's required by law. You basically can't do anything without one," he said.
Being unable to file an FEC disclosure could lead to administrative fines for the Santos campaign. But without a separate investigation elsewhere, there will not be other legal consequences from the FEC.
Attorney Marc Elias shared a similar sentiment in a tweet.
"This is a very big deal. A federal political committee cannot legal act without a treasurer. It cannot raise or spend $. Most importantly for today, it cannot file the required FEC disclosure reports," he tweeted.
His campaign committee lacking a treasurer would also deliver a blow to his reelection odds. Santos, who has faced scandal after scandal, was already set to face a difficult election, as the majority of voters in his district believe he should step down from Congress.
Although Republicans had a disappointing night across the country, a "red wave" did manifest itself in New York, bringing Santos and other Republicans to victories in Democratic-leaning districts. Biden won the seat by eight percentage points in 2020, making it one of the most Democratic-leaning seats currently held by a Republican.
But not being able to raise money could make it substantially more difficult for an already-vulnerable Santos to hold that seat in 2024 should he choose to run for reelection.
"You want to make sure that you raise money if you're a vulnerable candidate," Rahmani said. "You really can't raise money, and I don't know who would be contributing to him. You certainly want to raise money if you're going to be challenged, and he's going to be challenged."
Rahmani added that Santos is "in a world of hurt, and this certainly can't help his situation."
Newsweek reached out to Santos' campaign for comment.