For the most part, HBO's The Last of Us has proven to be an accurate adaptation of the beloved Naughty Dog game but the drama's third episode changes everything, and co-creator Craig Mazin told Newsweek why this was so essential.
The Last of Us is a fairly self-contained game in that players remain with Joel Miller (Pedro Pascal) and Ellie Williams (Bella Ramsey) the whole way through, sometimes switching between the pair but always seeing the story through their eyes.
The HBO show has no such limits as is proven in the third episode, which focuses almost entirely on Bill (Nick Offerman), a side-character from the first game, and his partner Frank (Murray Bartlett).
This was something that showrunner Mazin felt was vital to the overall story, and was a decision that he and co-creator Neil Druckmann were keen to execute.
Warning: This article contains spoilers for 'The Last of Us' Episode 3
'The Last of Us' Co-Creator Shares Why They 'Got Brave' for Bill and Frank's Episode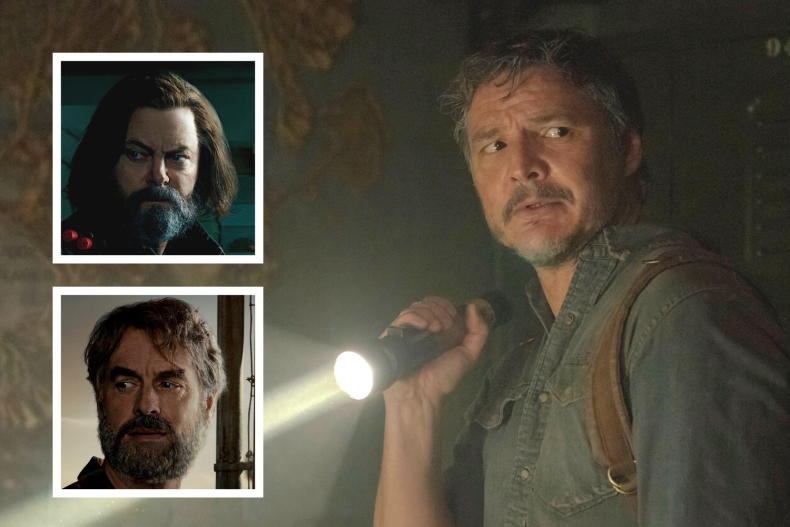 Episode 3 of The Last of Us introduces Bill, a survivalist who was able to turn his town into a safe haven following Outbreak Day after everyone who lived there was evacuated.
For several years Bill lives alone, content with keeping busy with odd jobs around the town like making a vegetable patch and building traps for any Infected that come close to the town's perimeter.
He is happy in his solitude until one day it is disturbed by Frank, another survivor who ends up stuck in one of Bill's traps. What begins as Bill showing Frank mercy soon becomes something more as the two fall in love and start to build a life together over the 20 years between Outbreak Day and the present.
Mazin explained that he and Druckmann, who is also co-creator of the original game, decided to be daring by taking the story away from Joel and Ellie for a time (though they do appear in the episode).
"It was an area where I think we got brave," Mazin told Newsweek. "Everything I would think about was always from the point of view of my experience playing the game, and experiencing the story for the first time, so I come at it as a fan and I remember being really affected by the fact that Bill was safe.
"These first two episodes, there's a lot going on and there's scary things, and danger everywhere, and then 'wait a second, now we have a chance to just breathe for a bit' because someone's figured out how to live, how to survive and be safe, but then [we thought], 'okay, now what is life if you're alone in your little safe mode?'
"I just loved the allusion of a relationship that was in the game between Bill and Frank, and it seemed like we had a chance to just go a different way and, with our breathing, tell this other story that illuminated not only the passage of time but also some of the big themes that are going to continually echo forth about love; about the nature of love, and what it does for us both good and bad, the different ways we love each other."
How Bill and Frank in 'The Last of Us' Show Differ From the Game
In The Last of Us Part I, Joel and Ellie meet Bill during their journey across America to get to the Fireflies lab, where Ellie might be able to help scientists with their search for a cure to the Cordyceps Brain Infection because of her immunity to it.
Bill tells Joel and Ellie about Frank in the game, but by that point Frank is said to have left him and disappeared. The HBO show goes an entirely different route, as Bill and Frank enjoy their somewhat peaceful life for years, and even become friends with Joel and Tess (Anna Torv).
When Frank develops an illness that leaves him unable to walk, or do much of anything without becoming exhausted, he decides that rather than continue on he wants Bill to help him end his life. In the end, Bill decides to join Frank by going out on their own terms, and they die in each other's arms.
Shortly after, Joel and Ellie arrive in the town and discover a letter from Bill explaining their decision, as well as a car and supplies for their journey.
Of this change in storyline, Mazin added: "All of those themes led up to, first of all, what we think of, weirdly, as the happiest ending. Circumstances aside, Bill and Frank win, that's a win.
"But also everything that they go through, and everything that Bill learns that he puts in his letter to Joel, informs Joel and Ellie going forward.
"It informs, actually, all of the relationships you see going forward, so we kind of turned this strange side journey with Bill and Frank into a little bit of a thematic seed out of which a lot of things grow."
The Last of Us airs Sundays at 9 p.m. ET on HBO and HBO Max.