An ex-aide to former Vice President Mike Pence believes that Representative Marjorie Taylor Greene will not be Donald Trump's next running mate in 2024, for one shallow reason.
Trump is seeking reelection as president in 2024, despite mounting doubts over his negative image with many voters. For numerous reasons, including the events of the January 6, 2021, Capitol riot and his own potential presidential bid, Pence is not expected to be his running mate again, leading to speculation over who the former president might pick.
Among Trump allies and political insiders, a supposed shortlist of candidates has started to solidify, all of them being women: the controversial and outspoken Greene of Georgia; Representative Elise Stefanik of New York, the current head of the House Republican Conference; South Dakota Governor Kristi Noem; former news anchor and failed 2022 Arizona gubernatorial candidate, Kari Lake; and, most peculiarly, former Representative Tulsi Gabbard, a one-time Hawaii Democrat who left the party in October after years of criticism about her right-wing views.
Speaking on MSNBC's The Sunday Show, Olivia Troye, a former Homeland Security and Counterterrorism adviser to Pence, said that Greene's reported interest in being Trump's running mate is a matter of considerable concern. However, she also surmised that the GOP lawmaker's chances might not be strong, due to the shallowness of Trump himself.
"Unfortunately for her, honestly, Donald Trump is a shallow human being," Troye told host Jonathan Capehart. "And I don't think she's gonna meet the looks match for him. I hate to say that to disparage another female, but we know how shallow this man is."
During her appearance, Troye also emphasized that Greene's potential vice presidential ambitions are nothing to discount, citing Trump's own unlikely ascent to the White House in the face of dismissal and mockery in 2016.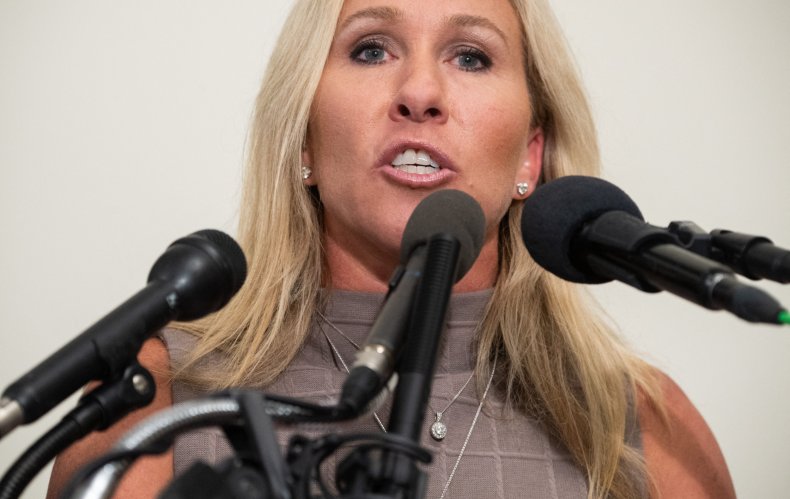 "Remember when we used to just kind of write off Donald Trump? When he started running for office and everyone thought it was a joke and that he wouldn't make it, and he made it to the Oval Office," Troye said. "When I watch people like Marjorie Taylor Greene say that they want to potentially be Madam Vice President someday under Trump, I don't write that off."
She added: "I actually think that's a very big concern and we should be paying attention to this because she's clearly clamoring for the attention. She put that out there so that Trump can see it and he can keep it in the back of his mind."
Newsweek reached out to Greene's office for comment.