Drones targeted an Iranian defense factory near the central city of Isfahan overnight, Iranian authorities said.
The explosion caused only minor damage and no casualties, Iran's Defense Ministry said. The ministry did not offer any details on who it suspected carried out the attack.
It came amid tension with the West over Tehran's nuclear work and supply of arms for Russia's war in Ukraine. The country has also been rocked by months of anti-government demonstrations sparked by the death of 22-year-old Mahsa Amini, who was detained by Iran's morality police and died in their custody last September.
Videos on social media on Sunday show a massive explosion at the facility, which was reportedly used to manufacture weapons.
"Around 23:30 on Saturday night, an unsuccessful attack was carried out using micro Aerial Vehicles (MAVs) on one of the ministry's workshop sites," the country's defense ministry said in a statement carried by Iran's state TV, according to Reuters.
The statement said one drone was shot down, "and the other two were caught in defense traps and blew up. It caused only minor damage to the roof of a workshop building. There were no casualties."
The attack "has not affected our installations and mission…and such blind measures will not have an impact on the continuation of the country's progress," the statement concluded.
There was no immediate claim of responsibility for the blast, but some Telegram channels accused Israel for the attack.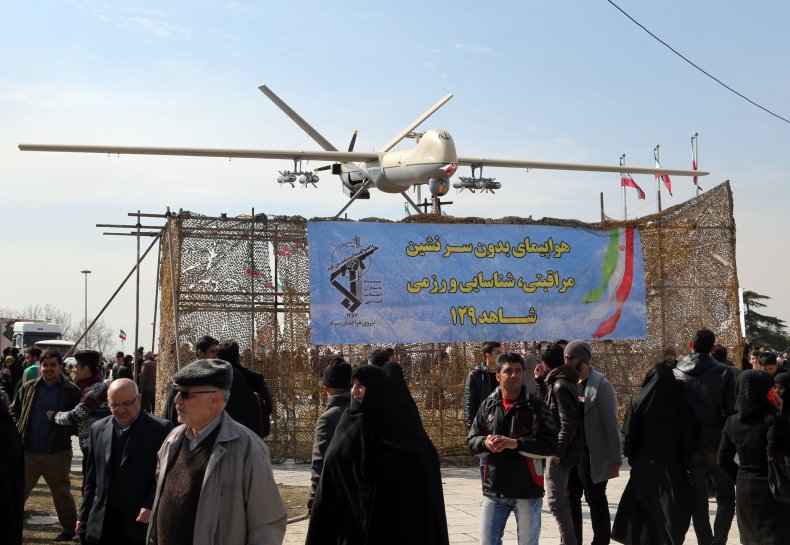 Sepah Cyberi, which is affiliated with Iran's Revolutionary Guards Corps (IRGC), pointed to Israel and its agents inside Iran of being behind the attack, and warned "experience has shown that Iran will retaliate," The New York Times reported.
An Israeli military spokesperson declined comment to Reuters when asked if Israel had a connection to the incident.
Others linked the blast to the ongoing war in Ukraine, after Iran was recently accused of supplying Russia with drones to attack Ukrainian civilian targets.
"War logic is inexorable & murderous. It bills the authors & accomplices strictly," Mykhailo Podolyak, a senior aide to Ukrainian President Volodymyr Zelensky, wrote on Twitter on Sunday. "Explosive night in Iran – drone & missile production, oil refineries. [Ukraine] did warn you."
Meanwhile, Russian state news agency, TASS, said the drone strike was carried out by the United States Air Force and "another country," citing reports from Al Arabiya TV and Al Hadath TV.
Anwar Gargas, a senior Emirati diplomat, said the blast in Isfahan is the latest "dangerous escalation that the region is witnessing."
It "is not in the interest of the region and its future," he wrote on Twitter on Sunday. "Although the problems of the region are complex, there is no alternative to dialogue and political solutions to avoid escalation and reach solutions that contribute to easing tensions and preserving the stability and security of the region."
Newsweek previously reported that President Joe Biden was not seeking to pursue progress on reviving a 2015 nuclear deal with Iran anytime soon.
The deal, which was abandoned by then-President Donald Trump in 2018, had allowed for sanctions against Tehran to be lifted in exchange for a strict curbing of the country's nuclear activities.
Newsweek has contacted the White House for comment.