A Kremlin propagandist has clashed with a guest on his show over whether Russia should use nuclear weapons on an expected delivery of military hardware to Ukraine's forces.
Vladimir Solovyov, who is close to Vladimir Putin, has used his programs on both television and radio to vent against the West and urge the Kremlin to use its nuclear capabilities in the invasion of Ukraine.
Journalist and Russia-watcher Julia Davis tweeted a clip of one of his latest exchanges, this time on his radio program Polny Kontakt (Full Contact), in which he ranted against the West and described how Ukraine's allies consisted of "Nazi dirtbags."
Solovyov questioned why parts of Russian society did not fully understand the conflict was a "holy" and "patriotic" war against all of NATO, as well as "50 Satanic countries" who want "to destroy us."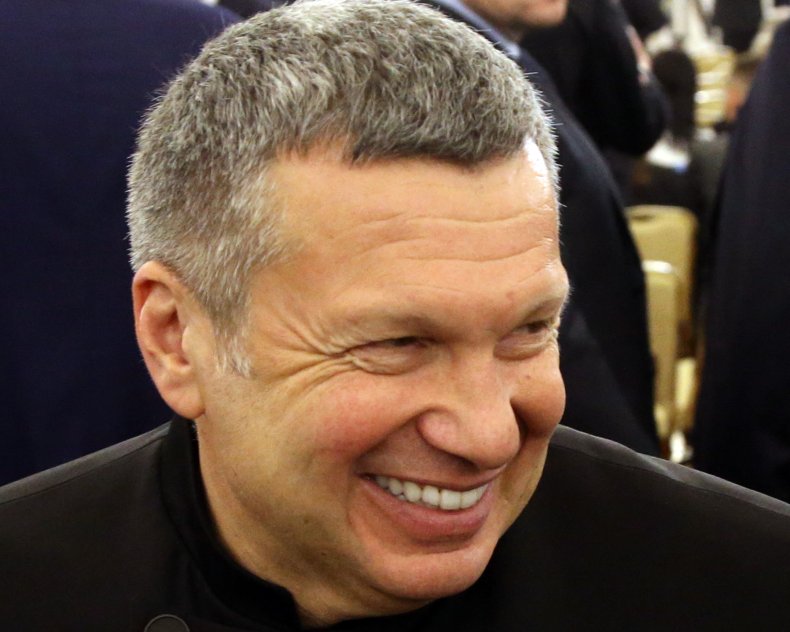 This was likely a reference to the meeting last week of Ukraine's allies at the Ramstein Air Base in Germany to discuss how to arm Kyiv's forces against Russian aggression.
He then had a dispute with his guest, Russian MP Semyon Bagdasarov, who said that using nuclear weapons "is a dangerous trend" and that Moscow needed to develop its ground forces "and supply them with modern equipment."
Solovyov replied that "not using nuclear weapons is a dangerous trend" as he said that Russia should make the most of its "superiority in tactical nuclear weapons."
"Why have them if we can't use them?" added Solovyov, prompting Bagdasarov to reply that Moscow's nuclear weapons capabilities had prevented the build-up of western tanks, such as the U.S.-made Abrams and German-made Leopards which "would have been there a long time ago."
Solovyov then raised his voice an octave to rail at how NATO had "three-and-a-half times" more conventional weapons than Russia and that the Swedish, French and Baltic states were "delivering everything" in terms of arms.
Bagdasarov suggested that Russian forces should destroy the western equipment deliveries using conventional weapons, prompting a visibly riled Solovyov to say that this would just encourage Ukraine's allies to deliver more.
"War has its own laws, only escalation, right now they fear nothing," Solovyov said, "we should curtail it and do it harshly."
Earlier in the exchange, Solovyov had asked how many tanks Ukraine's allies would have to provide Kyiv for them to be considered a participant in the war.
The U.S. is reportedly expected to announce plans to deliver at least 30 M1 Abrams tanks while Germany is set to agree providing at least 14 Leopard 2s following weeks of pressure on Berlin over its reluctance to send the military vehicles.
However, the Russian ambassador to the U.S. Anatoly Antonov has told Newsweek that the advanced tanks would be destroyed, along with other Western military aid.