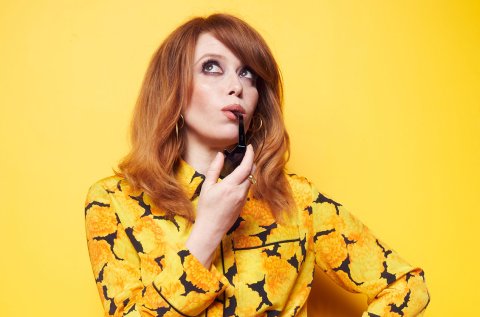 "While she does have this undeniable gift, she's definitely not a superhero or a magician."
For Natasha Lyonne, humor is essential for any detective mystery. "I do love that sense of television where it's a very light touch. It's a little bit, hey, come hang out again, you know?" She teamed up with Knives Out creator Rian Johnson to make Poker Face (Peacock, January 26). Lyonne plays Charlie Cale, who has the gift to decipher when people are lying, as she encounters crimes from quirky characters. "While she does have this undeniable gift, she's definitely not a superhero or a magician." Still, Charlie isn't your typical detective. She's "much closer to Jeff Bridges in Big Lebowski. She's the dude. She's really got this attitude of how did this crime fall into my apartment? I'm just sort of hanging out." But the most important thing is to connect with the character, and that's where the humor comes in. "In a detective show, it's almost a way of saying that despite the impossible circumstances, [you] know that your rock in this series still has their wits about them and almost suspending disbelief that they'll be able to get out of the twisted [case] they find themselves in."
SUBSCRIBE TO THE PARTING SHOT WITH H. ALAN SCOTT
ON APPLE PODCASTS OR SPOTIFY
What excited you most about the idea of this show?
It's the appeal of Rian [Johnson] and I. We really enjoy each other and felt like [Poker Face was] an opportunity to creatively get old together if it hits. I think we wanted to work together, but almost in a way that's like playing the crossword puzzle. The crossword comes in every day. You're excited to play it. A bunch of other things happen that day and then you get to play another crossword puzzle. I think that we had that approach to it. And we get to bring all our friends along for the ride. He always describes it as a hangout show, which I love. Noah Segan's in it—who's in every Rian movie—[and] who I happen to know since he was like 15 and I was 17. And Janicza Bravo, who I'm so close with, came and directed the finale. We're hanging out with my dog Root Beer in the middle of nowhere. And Chloë [Sevigny] and Clea [DuVall], my best friends of 25 years, show up. And Dascha Polanco, who I adore so much from Orange Is the New Black and Russian Doll, she's there. Alice Ju, the brilliant writer on season two of Russian Doll, we were lucky enough she joined us in the writers room for Poker Face this year. Alice is so special and brilliant. Her work this year on Russian Doll was extraordinary. She's like 25 or something. It brought me so much joy. Now that I'm aging into a mom of brilliant weirdos in the arts accidentally, I like the joy of [seeing] her and Rian working together. And then selfishly, it's everything I'm into. That's what makes this whole job really worth doing. Do it with the people that you find inspiring, who you actually want to pass your life with, for lack of a better term.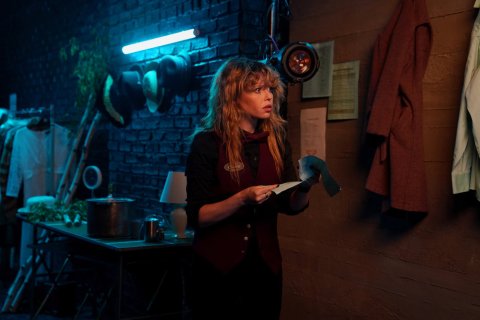 What I love about the show is that each week it's a new story and new characters. What was it like having a new story each week?
A funny thing about growing up, in a way, I find that I'm not just interested in solving my own case anymore. It's fun to be on the case of other people's experiences. It's probably a natural part of maturing. The other nooks and crannies are more interesting. We have this writer on Russian Doll, her name's Allison Silverman, and she always talks about how Russian Doll is a noir show. We love going into these little pockets and nooks and crannies, you see that so often in noir films. The lead goes into like a little nook that's fully realized, even just for a brief scene, but inside there's this weird cast of characters, and then you never see them again. It's just like a little clue along the way. Obviously we play that game, and in Russian Doll and [Poker Face], it's almost as if you go into the nook and cranny, but live there for an entire episode in a way that's really very fun. I already have a beautiful show that I'm so proud of that I also make with all my pals. It's inherently a philosophical expedition that's just miraculous that people are into it all because it's a pretty deep, high concept outing and I'm so grateful that people go along for that ride.
What seems so fun about having both [shows] is that it's really almost as if there are two sides to a Philip Marlowe coin. Obviously Elliot Gould's portrayal of Philip Marlowe and Robert Altman's Long Goodbye is such a huge basis. You see it with Nadia [in Russian Doll]. Part of what I enjoy so much about both shows is essentially I'm basically just being Philip Marlowe. Part of what feels so radical is that we haven't seen a woman do it. We've seen Dennis Franz be Sipowicz [in N.Y.P.D. Blue], and we've seen Peter Falk be Columbo. It's like, let's not change anything, I'll just be Sipowicz and Philip Marlowe, too. For me, I do love that sense of television where it's a very light touch. It's a little bit, hey, come hang out again, you know? Charlie is much closer to Jeff Bridges in Big Lebowski. She's the Dude. She's really got this attitude of how did this crime fall into my apartment? I'm just sort of hanging out here. On a formal acting level, it's almost like acting as a game. Like creating boundaries you can push up against, and both of them have strict perimeters. I always see my job as making those seem like they're invisible and seamless as much as possible.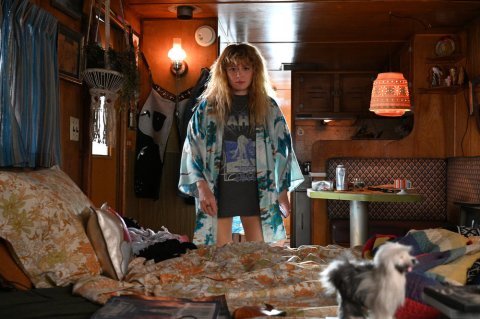 Your character can tell when people are lying. Would you like to have that trait in real life?
I mean, I wouldn't hate to have it. Rian has that great line, "people lying is like birds chirping, you know it's everywhere." The trick is to figure out why someone is lying, and I think that that's really what I love so much about Charlie. While she does have this undeniable gift, she's definitely not a superhero or a magician. She's on a very human level. She just has this brain where she can't help herself because it's like a lust for integrity that I greatly identify with. You know something is off here and she has no capacity for injustice and isn't self protective enough to care. She's a little bit like, "I'm the dude and there was an injustice so I better go off and crack this case" and gets tangled up in the clues without realizing that she's in too deep. I definitely identify with that desire to, like John Lennon says, just give you some truth. It's just so weird that we exist in a world where white lies are the barometer of wellness as a culture. I think it's a social sickness, to think that that's estimable. I mean, obviously it's my area of interest. This idea that if we can be more honest with each other we'd have an easier go of it as a people. I'm always miffed by it. People seem to forget so easily how briefly we're here and want to shellac their lives to make other people think they're doing well as opposed to just telling the truth, I think it's a real bummer. I love that she's got that quality and I would say, as someone who's probably spent more time writing, directing, acting, out there in the world getting my hands dirty, I really identify with that kind of human instinct of being able to pretty quickly know when somebody is [a] safe or unsafe character, regardless of their status or style. You know, like it's definitely not like, oh, this person's got a crazy haircut and tattoos, they're not to be trusted. It's usually quite the opposite. Like you'll know them by their Stepford-wife likeness. I love that about Charlie so much.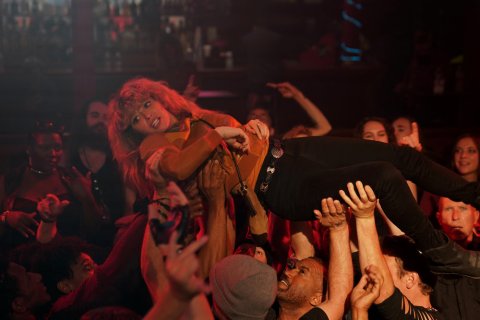 Why do you think humor is so key to a good mystery show?
Rian is just such a funny person, and he's such a brilliant writer. He's such a brilliant filmmaker and it's really the joy of the thing. Is there anything more torturous than watching something so serious? It's brutal. Jokes are the great joy of life. That and that we can't actually read each other's minds. I just think jokes are the great diffuser, that thing that allows us to know a character has a greater perspective on a situation, and that they're seeing something in a bird's-eye view. I always see humor as a sign of a greater bird's-eye intelligence, where you can sort of separate yourself out from the circumstance, such that you can see the greater world at large and comment on it by quickly connecting the dots of all the different players' points of view. In order to really make sense of why a situation is as deeply absurd as it is, you've got to be able to quickly put yourself in other people's shoes to figure out what their motives are or their logic. One of the greatest aspects of being people is that we can do that. It really does come up, I think, in life; it's a very human instinct, to be totally up against the wall and in that moment say the weirdest thing in the world. It's the literalization of funeral giggles, for lack of a better term. So in a detective show, it's almost a way of saying that despite the impossible circumstances, know that your rock in this series still has their wits about them and almost suspending disbelief that they'll be able to get out of the twisted [case] they find themselves in.
It's been nearly 25 years since But I'm a Cheerleader came out, which has become a cult classic for many fans, particularly for queer fans. What do you make of the response to the film all these years later?
Clea Duvall is still my best friend of 25 years and it's been so extraordinary to watch her become such an impressive adult. She's a writer, director, showrunner, creator of multiple TV shows and we really ended up almost family at this point. We really grew up into orphans; when we first met that wasn't the case, but as life has progressed, we really are there for each other in terms of writing drafts or making cuts and sending them to each other or fighting with the studio, we're just so, so close. I'm so moved that she's in Poker Face.
I remember, back in the '90s, But I'm a Cheerleader was a script that I found on the floor of Clea's passenger seat in her car, just driving around. And I was like, what's this? And she was driving, chain smoking. It's like in 1997. I just started reading it while she was driving and I said I can do this. What's the problem? I'm not blonde enough or normal enough or something? And she was like alright, I'll just call the director, Jamie Babbit, she's a friend of mine and try to convince her. I was like, alright, don't make it a whole thing. I used to wear these like giant black monster boot platforms and a black overcoat. I had my hair really huge. We went to Jamie's house and started reading from it to try to convince her that I could play a cheerleader and we should do this movie together. It never even occurred to me or like came up that it was gay in a way. It was more just like why wouldn't I? Of course I'm in love with Clea. This is my part and we have to make this movie together because we're a duo now. The subject was so insane. The fact that this was based on a real thing was as surreal as it gets and harrowing. I remember that when Clea and I went to Sundance with it because it was in Utah, that was the first time we together started experiencing what was ultimately going to be, the ongoing legacy [of the film], because these young girls would run up to us say, we've never seen anything like this before and they'd be crying. We would just be hugging them and hanging out and smoking cigarettes with them and being like, that's so great. Little did we know that we'd be continuing to have that conversation 20 years later. I think we're all so proud of it.
It continues to be so crazy that anybody in this life would think that for some reason their humanity gets to have some higher ranking on anybody else's humanity, or gets to tell other people about their lifestyle or how they should or shouldn't live. Nothing is as insane to me as the concept of gay marriage has been approved. I'm like "by who? Go f*** yourself. Who the f*** do you think you are that you get to approve? Who made you the approver?" It's such an insane, twisted, dark, surreal and devastating concept. It's like my brain can't process it that there are certain things that are seen as wins that I'm like "who determined you the giver of the winning?" This isn't a medal. It's like you don't get to tell anybody anything, you're just another bozo on the bus, pal. So like get back in your seat, get to the back of the classroom. You just lost your ability to get to have an opinion by virtue of the fact that you think you get to have an opinion about how somebody else gets to live or not live their life. It's such a broken concept. I'm sorry to be didactic about it, but I find it pretty upsetting. What shouldn't have been a radical act 25 years ago continues to be one [that] breaks my heart a bit. I'm so moved, of course, that in so many ways there's been so much progress. I love these young kids, and they're so hip. They just post post post everything and it's the best, and I love it. But at the same time it's just the idea of an outsider's [opinions having a] devastating impact. The self-harm that that caused in my teenage life, and to think that you know there's any kids walking around feeling that way about themselves because of some really lame mainstream idea, it breaks my heart and it still does. But I'm delighted that they've got the movie because we'll have it forever. So that makes me really happy.
Listen to H. Alan Scott on Newsweek's Parting Shot. Available on Apple Podcasts, Spotify or wherever you listen to podcasts. Twitter: @HAlanScott
In the Magazine