House Speaker Kevin McCarthy has been successful at barring two Democrats from the House Intelligence Committee, but the GOP may face challenges in keeping Democrat Ilhan Omar from retaining her seat on the Foreign Affairs Committee.
In November, McCarthy promised to keep Eric Swalwell and Adam Schiff from seats on the Intelligence Committee, citing concerns of Swalwell's involvement with a possible Chinese spy and Schiff's involvement with the Steele dossier, a controversial report alleging misconduct between Donald Trump and Russia regarding the 2016 election.
McCarthy, as speaker, can choose who serves on the Intelligence Committee because it is a "select" committee; Swalwell and Schiff are not expected to lose other, non-select committee roles.
McCarthy recently followed through with his promise, blocking the pair's efforts to join the Intelligence Committee. However, McCarthy faces a more difficult task in removing Omar from her committee—removing a member from a committee on which they already sit requires a House vote.
In a House Republican news conference that aired on C-SPAN, House Majority Leader Steve Scalise said the GOP has "no intention" of letting the three Democrats serve on committees that deal with the nation's secrets. He said anyone with "anti-American, antisemitic" views should be kept from the committees.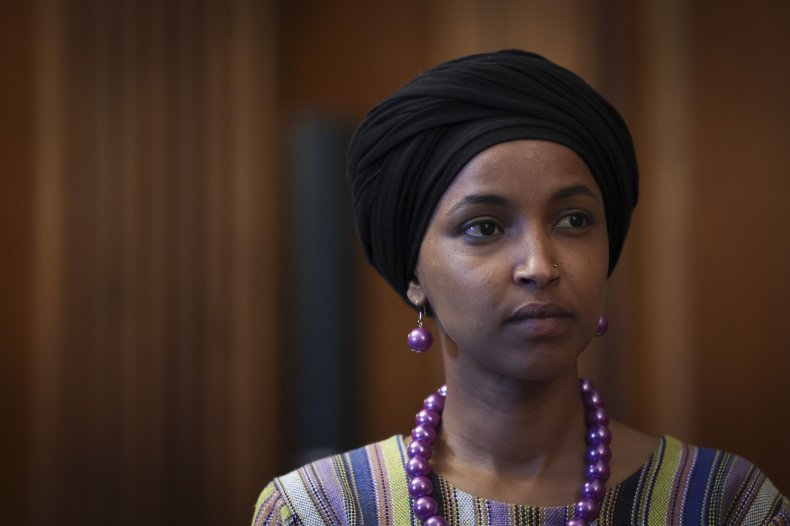 Some Democrats are accusing McCarthy of exercising political vengeance, a form of payback after Democrats booted Republicans Marjorie Taylor Greene and Paul Gosar from their committee assignments in 2021 for inflammatory remarks when Democrats controlled the House.
Republicans are using past controversial statements Omar said about Israel as fuel to boot her from the committee.
"These committees are very unique in that they deal with our national secrets, they deal with very classified information," Scalise said. "And if people have shown a propensity to either espouse anti-American, antisemitic views or do things that have put themselves in compromised positions, including lying about classified information, it raises serious questions."
When asked if he thought the House would secure enough votes to remove Omar from her committee, Scalise skirted the question.
"We have no intention of letting them serve on those committees," Scalise said.
It is not certain that the GOP will have enough votes to keep Omar from the committee.
With the Republicans' thin majority, McCarthy doesn't have much room for opposition and would need all but four votes from his fellow Republicans to boot Omar from her committee.
Several Republicans have already expressed hesitancy at voting Omar off the Foreign Affairs Committee, including Republicans Victoria Spartz and Nancy Mace. The vote could occur as soon as next week.