Honda is giving more clarity on its hydrogen fuel cell vehicle future in the U.S. The Japanese brand said today that it plans to produce a new hydrogen fuel cell electric vehicle (FCEV) based on the recently launched Honda CR-V crossover, starting in 2024.
The new model will be built at Honda's Performance Manufacturing Center in Marysville, Ohio. Honda has previously said that battery electric vehicles (BEVs) and FCEVs will represent 100 percent of its global auto sales by 2040.
"Hydrogen fuel cell has big potential to change the game from environmental and technological perspectives, but unfortunately, there has been little focus on hydrogen product and infrastructure development. Instead, the industry has chosen battery-electric vehicles as the way forward and that's where the majority of attention for development and build-out is," Paul Waatti, manager of industry analysis at AutoPacific told Newsweek.
"For consumers moving from ICE to pure EV, some substantial changes are required on the consumer's end. Hydrogen, on the other hand, entails very little change in behavior from ICE ownership. Refuel times and drive character are on par with ICE vehicles, not to mention tailpipe emissions are literally water," he said.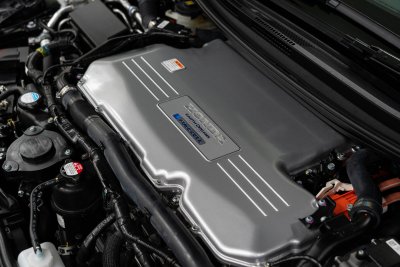 Fuel cell vehicles carry a high-pressure hydrogen tank instead of a gasoline tank, which generates electricity inside fuel cells to drive the electric motor, moving the vehicle without releasing carbon dioxide or any other harmful emissions.
The new Honda FCEV will also be North America's first production vehicle to combine a hydrogen powertrain and a plug-in feature. This will operate similar to how current plug-in hybrid electric vehicles work, with an owner charging the battery for around-town trips via traditional wall plug or charger, leaving the car to only use the hydrogen for longer journeys.
This isn't the first go around for Honda. It created the Clarity sedan in 2008. It was only available for lease in Southern California where the hydrogen infrastructure is better established than in the rest of the country. The Clarity came with a 100-kilowatt hydrogen fuel cell stack that made 134 horsepower and 189 pound-feet of torque. It had a range of 240 miles on a single full up.
The second generation of the hydrogen car ran from 2016 to 2021, also only sold in California, and had a range of 366 miles. In 2017, Honda introduced a plug-in hybrid version with a combined range of 340 miles.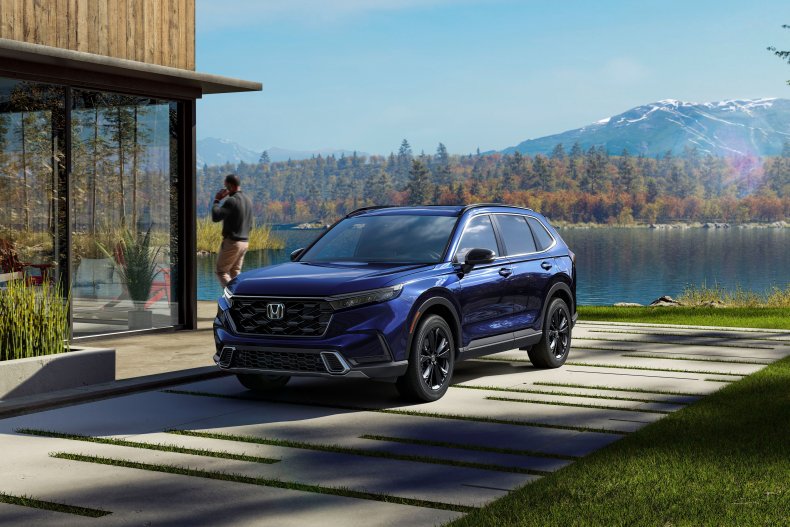 Honda has a long timeline of fuel cell advancements including first EPA- and CARB-certified fuel-cell vehicle in 2002. It had world's first production fuel-cell vehicle, introduced in the same year. It was the first to operate a fuel-cell vehicle in sub-freezing temperatures and had the first FCEV leased to a customer in 2005.
Honda was the first automaker to create a fuel-cell vehicle dealer network in 2008. It entered into a long-term collaborative agreement with General Motors to co-develop the next-generation of fuel-cell systems and hydrogen storage technologies in 2013. It announced a second deal in 2017 working toward mass production of lower cost, compact and high-performance fuel cell systems.
Honda isn't the only manufacturer interested in FCEVs. Hyundai's executive chair Euisun Chung is the co-chair of global Hydrogen Council. The company sells the Hyundai Nexo fuel cell electric SUV in the U.S.
BMW has also been openly gauging interest for hydrogen-powered SUVs, bringing X5s fueled by the propellent to the European market for further testing.
Additionally, Toyota and Hyundai have been testing usage of hydrogen-fueled tractor trailers, which are designed to lessen emissions in trucking-heavy areas such as the Port of Long Beach in California. Further testing is happening with heavy-duty trucks in the European Union.
"The biggest issue at hand for a vehicle like this is a general lack of current hydrogen refueling options across the United States. Despite all of the potential benefits hydrogen may offer, the technology is far from mainstream," said Waatti. "Hydrogen infrastructure is nearly non-existent outside of California, and even there, it's dismal. Until significant inroads are made in infrastructure, Honda's FCEV will have a limited audience, but from a technology and efficiency standpoint, it's an intriguing option."
Honda says more details on its fresh offering will be announced closer to the new vehicle's introduction in 2024, including where it will be sold.